15 Things You Probably Don't Know About Jeep!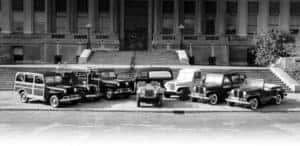 From the Wrangler to the Renegade, the Grand Cherokee to the all-new 2020 Gladiator Truck, we love the Jeep brand here at McLarty Daniel Chrysler Dodge Jeep Ram Fiat of Springdale! Over the years, we've run across a lot of off-the-wall facts about Uncle Sam's Best Idea, and every once in awhile, we like to share it with the fans. Seen below, check out our list of 15 Little Known Facts about Jeep! And if you're ready to buy a 2019 Jeep Wrangler in Springdale, Rogers, Bentonville or Fayetteville, make the short drive to McLarty Daniel CDJRF, where our selection is deep and our commitment to unbeatable customer service will make you a customer for life!

1) No one is sure where the name "Jeep" came from, though the answers with the best shot of being true are either that it was soldiers shortening the original Army vehicle designation "GP" for "General Purpose," from the two syllable "GEE-PEE" to the single syllable "Jeep," or that the name was adopted from Eugene the Jeep, a small, wily, magical creature that appeared in the early "Popeye" cartoons prior to World War II.

2) During World War II, a prototype of a flying Jeep was developed as a quick-deployment vehicle. Called the Hafner Rotabuggy, the heavily-lightened Jeep featured a helicopter-like rotor for lift. Though the design actually made short test flights, it was never put into production.

3) There is a worldwide organization of Jeep owners known as the Jurassic Park Motor Pool. Online at jpmotorpool.com, the only requirement for membership is owning a Jeep Wrangler YJ painted to resemble the Jeep Wranglers that co-starred in the 1993 Steven Spielberg film "Jurassic Park."  

4) The familiar star painted on the hood of some U.S. Army Jeeps during World War II was actually a chemical weapon detector! After 1943, the circular field around the star was created with a special paint called "M5 Liquid Vesicant Detector," which changed color from brown to bright red in the presence of poison gas. With the star directly in the driver's line of sight, the star alerted troops that they needed to put on their gas masks a few precious minutes before the odor of chemical agents could be detected by the human nose.

5) The original Willys Jeeps deployed during World War II had nine slots in the grille, as opposed to the seven slot grille that has since become an iconic feature of Jeep design.

6) The original Oscar Meyer Weinermobile was built on a Willys Jeep station wagon chassis.
7) One of the feats performed in an original Willys Jeep prototype while the design was being evaluated for potential adoption by the U.S. Army prior to World War II was driving a Jeep up the steps of the U.S. Capitol Building in Washington D.C.

8) As seen in a video shot during a parade in Halifax, Nova Scotia and widely available on Youtube, the record for completely disassembling a running Willys Jeep down to its basic components and then reassembling it back to running status again is under four minutes, with the feat performed by a group of Canadian Army soldiers with the Third Area Support Group.

9) "Tonight Show" host Jimmy Fallon appeared in HBO's 2001 World War II miniseries "Band of Brothers" as a soldier driving a Willys Jeep.

10) During World War II, a Willys Jeep nicknamed "Old Faithful"  — which had served as a staff car for four Marine Corps Generals in both the Pacific and European theaters — was officially awarded a Purple Heart due to damage suffered during the shelling of Guadalcanal. Retired from active duty in December 1943, Old Faithful was shipped back to the U.S. where it toured the U.S. helping sell War Bonds. It was eventually retired to the museum at the U.S. Marine Corps Air Station in Quantico, Virginia, where it remains on display to this day. It reportedly still fires up and runs smoothly, even though it has never been overhauled or restored since its original assembly.
11) In 1970, Jeep built a prototype for a small, roofless sports car, the XJ-001. Though the powerful, short wheelbase prototype was well received on the show circuit, it never made it into production, and the only example was destroyed by fire while being transported for display at the Texas State Fair.

12) American soldiers riding in bare-bones military Jeeps over rough European roads during World War II suffered Injuries to the tailbone with such regularity that the condition came to be known as "Jeep Bottom" or "Jeep Seat."

13) In 1959, Jeep introduced a special version of the Jeep CJ just for hotels and holiday resorts: the Jeep Surrey. Painted in bright pastel colors like pink and light blue, with fringed tops in boldly striped fabrics, Jeep Surrey models are exceedingly rare today and coveted by collectors. Elvis Presley owned a pink Jeep Surrey which he used to drive visitors around the grounds at Graceland.

14) Because of a one-year gap between the end of production of the Jeep Wrangler YJ in 1995 and the start of production of the Jeep Wrangler TJ in 1997, there's no such thing as a 1996 Jeep Wrangler.

15) Citing it as an example of automotive design in its purest form, the famous Museum of Modern Art in New York City has a 1953 Willys Jeep in its collection, added in 2002.