YEAR ONE: Jeep Gladiator On Autotrader's 10 Best Car Interiors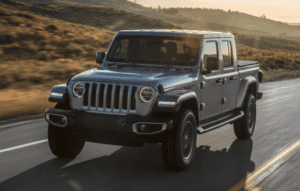 It has been a great first year for the 2020 Jeep Gladiator! The new 2020 Jeep Gladiator earned a spot on Autotrader.com's top 10 vehicles with best car interior for under $50,000. The all-new 2020 Jeep Gladiator has a modern interior with instantly recognizable Jeep features and ultimate functionality with a slightly refined style without taking away from its iconic ruggedness. You have a multitude of tech features and unique vehicle capability combined with tough-truck credentials. The all-new 2020 Jeep Gladiator is a wonderful truck in its own right and an excellent SUV for anyone who wants adventure! 
TOP TEN FOR BEST INTERIOR: Every year, the editors of Autotrader.com, the online marketplace for anyone buying or selling new or used vehicles, survey the latest models to find the top 10 vehicles under $50,000 with the best interior features. The all-new 2020 Jeep Gladiator was one of the ten chosen this year! "The Jeep Gladiator's interior is perfectly in line with the overall ruggedness of the Gladiator pickup," said Brian Moody, Executive Editor of Autotrader. "We picked the Gladiator, not because of any inherent luxury, but because it somehow manages to be stylish, functional and comfortable without being garish or soft." The editors rate the vehicle's interior on comfort, quality of materials, functionality and ease of use. It is a helpful way for consumers to find the top vehicle choices that recognize the importance of quality interior design.
WINNING INTERIOR: So what kind of awesome features make an authentic, capable, eye-catching interior? Overall, the all-new 2020 Jeep Gladiator's interior is an energized combination of versatility, authentic styling, comfortability, and intuitiveness with feature use. Then all of that combined in precisive craftsmanship with quality materials. What you have is a center stack with a clean, sculpted instrument panel with soft-touch surface with accent stitching. This setup reflects both heritage and contemporary form. You have functional features, including climate and volume control knobs, media charging and connectivity ports. The push-button starter comes standard, with a weather-proof surround and is easily located within the driver's reach. All of the features look sharp and precise with a touch of ruggedness, but with full functionality. Also equipped is the reliable Uconnect system which includes Apple CarPlay, Android Auto and the choice of 7.0- or 8.4-inch touchscreens with pinch-and-zoom capability.
OVERALL SENSATION: The brand new 2020 Jeep Gladiator is making its mark as the best-in-class truck. The new Gladiator presents a bold, rugged, distinguishable presence on and off-road, with exterior features representing heritage and innovation with the legendary seven-slot grille with widened grille slots for additional air intake to assist with the increased towing capacity. Then you have superb functionality and versatility in the Gladiator's durable bed for ultimate usability. For the unmistakable awesome Jeep power, the new 2020 Gladiator comes standard with the advanced fuel-efficient power-train, 3.6-liter Pentastar V6 engine coupled to your choice of eight-speed automatic or six-speed manual transmission. 
This is just the start for the all-new 2020 Jeep Gladiator, being recognized as one of the top ten vehicles with the best interior. The new 2020 Jeep Gladiator comes with the best interior features with stylized ruggedness that is both contemporary and iconic. Dependable and versatile, the new 2020 Jeep Gladiator is the perfect truck for northwest Arkansas terrain. Visit your friends at McLarty Daniel of Springdale, and drive off our lot in a new 2020 Jeep Gladiator.