THREE MAJOR TECHNOLOGIES MADE DRIVING SAFER IN THE 2010s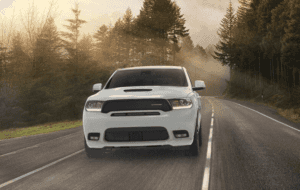 We all want that sense of security and peace-of-mind when we take our children to school, or when we are out on the road on a rainy night when driving conditions are poor. Over the past ten years, drivers have seen a lot of innovation in driving technology, from Driver Assist to the Back-Up cameras. We're always excited to see what technologies Chrysler Dodge Jeep and Ram have in store when new models are released every year, and we've had our favorites from the last decade. Here is a list of three major technologies introduced in the 2010s that have made driving safer for all us out on the road. 
AUTOMATIC BRAKING: Automatic braking technologies help prevent high-speed collisions by combining front-mounted sensors and automatic brake controls. This technology has been improved in the past several years and offers drivers a high-tech assist to help prevent collisions due to inattention. For example, the new 2020 Dodge Durango has a terrific automatic braking system offering several features like Brake Assist which enhances braking power for emergency stops. Also featured is Ready Alert Braking that is activated with the accelerator pedal is suddenly released, the brakes are prepared for a panic stop. Automatic Braking is one of the top features when purchasing a vehicle.
BACK-UP CAMERAS: There is nothing like getting a little help when backing out of a tricky parking space. The innovative Back-Up Camera is heaven-sent for the parking impaired, especially when backing out of a parking spot in a busy lot. If you need to get aligned for hitching a trailer, most Back-Up Camera systems will display gridlines and available trailer hitch zoom lens feature to make the job easier. The all-new Jeep Gladiator has this wonderful set-up with its ParkView Rear Back Up Camera feature.
BLIND-SPOT MONITORING: Another wonderful feature that greatly enhances safety is Blind-Spot Monitoring. Almost every vehicle has a dangerous blind spot which the mirrors just can't see. Available Blind Spot Monitoring System assists you in making a safer lane change. The blind spot monitor in the new 2020 Chrysler 300 detects any vehicle in one of your blind spot zones and alerts you with an icon in the corresponding exterior mirror along with activating an audible chime. This will make maneuvering along a busy highway during rush hour go more smoothly. 
There are a lot more safety and driving assistance innovations out there, so this was just the beginning of a long list, and there will be more innovations to come in the following years of the new decade. If you are interested in any of the new models previously mentioned, stop by McLarty Daniel Chrysler Dodge Jeep Ram of Springdale. Come take a test-drive in the vehicle that fits your busy life and gives you the safety features you want!
CLICK HERE TO CONTACT OUR TERRIFIC MCLARTY DANIEL SALES TEAM