Ram introduces a new multifunction tailgate | McLarty Daniel CDJRF of Springdale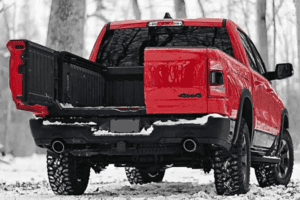 Since the introduction of motorized trucks over 100 years ago, the tailgate has been pretty much unchanged: a flat, hinged panel to keep your chickens, turnips or topsoil from spilling out the back of the bed when you accelerate or hit a hard bump.

The engineers and designers at Ram, however, aren't ones to think "good enough" is good enough for the most demanding drivers in the world. With that in mind, Ram recently debuted the new multi-function tailgate for the 2019 Ram 1500, adding even more functionality to an already great pickup.

In addition to being a fully-dampened, remote-release tailgate that swings down and operates in the conventional manner, the new 2019 Ram 1500 multifunction tailgate adds a first of its kind 60-40 split, with hinges on either side that allow the tailgate to be swung open from either the driver or passenger side, or both at once. The unique mechanism allows for easier unloading and loading of the bed, easier washing out after hauling dirty or muddy loads, and even loading of the bed with a forklift.   
Unlike the MultiPro tailgate from GMC and other multi-function tailgates, Ram's split tailgate is trailer friendly, and doesn't require the trailer or hitch to be removed to enable full functionality. And with a 2,000-pound maximum load rating, the Ram split tailgate doesn't mean you have to sacrifice any ruggedness or capability. The tailgate has four configurations: open flat like a conventional tailgate, open left door only, open right door only and open both doors. Each door swings open 88 degrees. A retractable, center-mounted step option is also available.
"The Ram multifunction tailgate is intuitive to operate and owners will find it immediately useful," said Reid Bigland, Head of Ram Brand – FCA. "Combined with Ram's class-exclusive RamBox feature and new tailgate step, we're taking Ram's cargo management and storage to the next level."
The multifunction tailgate will be available across all seven 2019 Ram 1500 trim levels, and will be available at Ram dealerships this summer as a $995 option. The optional center step is $295.

It's just one of the hundreds of ways the all-new 2019 Ram 1500 is bigger, bolder, better and more beautiful than any other truck on the road. Want to buy a 2019 Ram in Springdale? Stop in today at McLarty Daniel CDJRF of Springdale and take a test drive today, or check out our big selection of 2019 Ram 1500 models online right now!