Oh the places you'll hide!: Storage and Cargo Options in the 2018 Dodge Journey | McLarty Daniel CDJRF of Springdale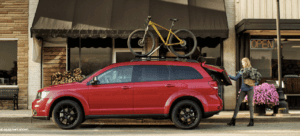 One of the downsides to taking a road trip of any duration is finding places to securely stow all your stuff. There's nothing worse that starting out on an extended trip in a car that, once you get it packed, looks like the Joads lighting out for California in "The Grapes of Wrath." Luckily for you, there's the 2018 Dodge Journey, and it's packed with well-hidden cubbies, hidey holes, compartments and bins to make keeping your stuff secure, safe and out of sight on a trip to the store or across America easier than ever. If you're thinking you might want to buy a 2018 Dodge Journey in Rogers, Arkansas, come see us at McLarty Daniel Chrysler Dodge Jeep Ram Fiat in Springdale. We can walk you through the 2018 Journey's innovative Smart Storage System. Stop in today for a test drive, shop our selection of 2018 Journeys online, and read on for more details about the storage options to be had in the new 2018 Dodge Journey that's waiting for you at McClarty Daniel CDJRF in Springdale!
Click here to shop our selection of 2018 Dodge Journey models

Front Passenger Seat Storage
One of the few downsides of owning an SUV instead of a sedan is the lack of a lockable trunk in which to to store small valuables when you're on the road or just running around town. Leave a camera, wallet, designer sunglasses or smartphone out in the open and forget to lock the doors just once, and that'll be the day someone with light fingers strolls by, looking for an easy score. That's what makes the 2018 Dodge Journey's secret compartment under the passenger-side front seat cushion so valuable. Big enough to store a small laptop or full-size DSLR camera, the space is easily accessible from the driver's seat as long as you don't have a passenger, and what thief is going to think of looking under the passenger seat cushion while quickly rifling through an unlocked car? When combined with the large compartment in the front console and huge door bins, it makes for several cubic feet of handy storage where you need it most.

Second-Row In-Floor Storage Bins
Don't get us started on traveling with kids. From snacks to wet-wipes, diapers to roll-up changing pads, iPads to favorite stuffed toys, kids sure do need a lot of stuff for people so small! If you feel like you need to hire a sherpa to help with the cargo every time you go on a trip with the kids in the back seat, the 2018 Dodge Journey's second-row in-floor storage bins were made for you. There's two of them, one under each second row floor mat. Each has a sturdy ABS lid and 1.6 gallons of interior room with the lid shut. Even better for long trips when you don't want to do a lot of stopping for cold sodas and perishable snacks, each is insulated like an ice chest, with a removable, watertight liner, and each one can hold up to a dozen 12-ounce cans! No more lugging around that heavy, leaking ice chest!

Cargo Area In-Floor Storage
Another of those why-didn't-somebody-think-of-this-before ideas that has been made reality in the 2018 Dodge Journey is the storage compartment that runs the full width of the rear cargo floor behind the third-row seats. Big enough for golf clubs, baseball bats and gear, golf umbrellas, compact folding chairs, or anything else you need to take along with you on a trip, the compartment is accessible by twisting a convenient latch, and the heavy-duty ABS plastic lid is tough enough to not collapse, even if you pile on heavy stuff in the rear cargo area.
Fold Flat Seats
While all that hidden, lidded cargo space in the 2018 Dodge Journey is more than welcome in today's fast-paced world, what if you've got something too big to fit even in the Journey's available storage compartments? A taxidermied llama, for instance, or that life-sized statue of James Earl Jones, or the eight-foot log your sister just had to have for her log collection? Well, when in need, the entire interior of the 2018 Dodge Journey can become a storage compartment, thanks to the Journey's fold-flat seats. Standard on all 2018 Dodge Journey Models, both the second and third row seats and the front passenger seat can fold down flat, opening up a whopping 67.6 cubic feet of space for cargo. That's big enough for a full-sized kayak, or, in a pinch, a full-sized friend whose girlfriend temporarily kicked him out of the house!

Whatever you need to stow, hide, carry, squirrel away or keep from prying eyes, the 2018 Dodge Journey has a clever compartment for that, and they're just a few of the incredible and innovative design features to be found on the all-new 2018 Dodge Journey. If you're in need of a road-tripping machine that can really haul the family freight, come see us at McLarty Daniel Chrysler Dodge Jeep Ram Fiat in Springdale! We've got beautiful, capable, comfortable 2018 Dodge Journeys in stock and ready to start helping you make your family trips safer and more enjoyable, whether you're going across town or across the map. Stop in today for a test drive, or browse our wide variety of 2018 Dodge Journey models online today!
Click here to contact McLarty Daniel CDJRF of Springdale, or click here to visit our Finance Center
McLarty Daniel Chrysler Dodge Jeep Ram Fiat in Springdale is a new and used car dealership proudly serving the communities of Northwest Arkansas, including Lowell, Rogers, Fayetteville, Bentonville, Springdale, Pea Ridge, Bella Vista and all points in between.