McLarty Daniel CDJRF of Springdale wins Dealer of the Year, Customer Satisfaction Awards from DealerRater! | McLarty Daniel CDJRF of Springdale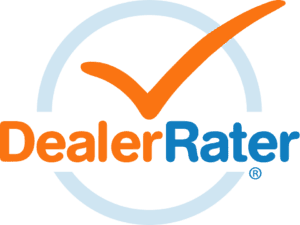 Here at McLarty Daniel Chrysler Dodge Jeep Ram Fiat of Springdale, we know our greatest asset is our relationship with our customers. That's why we're so proud to announce that McLarty Daniel CDJRF has been awarded two prestigious 2019 DealerRater awards: a 2019 Customer Satisfaction Award and the 2019 Arkansas Fiat Dealer of the Year!

They're two of the seven 2019 DealerRater awards The McLarty Daniel Automotive Group raked in this year, including three Consumer Satisfaction Awards and four Dealer of the Year awards for stores located in Northwest Arkansas. The awards recognize auto dealerships across the US who deliver outstanding customer service, as rated by our most important critics: our customers.
Founded in 2002, DealerRater.com offers nearly 5 million sales and service reviews across 42,000 U.S. and Canadian dealerships, including a network of more than 5,000 Certified Dealers. The DealerRater Awards recognize top US and Canadian auto dealers who demonstrate excellent customer service as expressed by consumer reviews written on DealerRater.com.
Reviewers evaluate locations on customer service, quality of work, friendliness, pricing and overall experience. DealerRater's PowerScore™ ratings are determined using an algorithm that factors the dealership's average DealerRater consumer rating and the total number of reviews written about the dealership during the 2018 calendar year.
"Car buyers have spoken and have identified McLarty Daniel Nissan, McLarty Daniel Chrysler Dodge Jeep RAM of Bentonville and McLarty Daniel Chrysler Dodge Jeep RAM FIAT of Springdale as some of the best dealers to do business with in Arkansas," said DealerRater General Manager Jamie Oldershaw. "The quality and number of reviews for McLarty Daniel speak volumes of the top-notch experiences they provide to customers."
The awards won by McLarty Daniel Auto Group also include:
— McLarty Daniel CDJR of Bentonville – 2019 Dealer of the Year (Dodge/Arkansas)
— McLarty Daniel CDJR of Bentonville – 2019 Dealer of the Year (Jeep/Arkansas)
— McLarty Daniel CDJR of Bentonville – 2019 Consumer Satisfaction Award
— McLarty Daniel Nissan – 2019 Dealer of the Year (Nissan/Arkansas)
— McLarty Daniel Nissan – 2019 Consumer Satisfaction Award
"We couldn't be more excited about these awards," said Russ Daniel, owner and managing partner for McLarty Daniel. "These days, online reviews make it simple for customers to identify the best companies to work with. We are blessed in this case. It's easy – we simply have the best customers on the planet!"

"I'm beyond proud of our team of associates," Daniel said. "It shows their dedication to providing stellar customer service and the hard hours they put in to deserve these honors."