Beautiful Arkansas Lakes to Visit in Your Jeep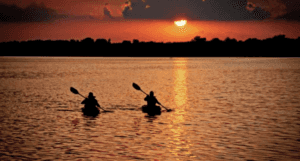 photo: Arkansas State Parks
Grab the ice chest, beach towels, all the swimming gear or fishing tackle, and let's go to the lake. Arkansas is a mecca for swimming and fishing, thanks to the various lake systems located throughout the Natural State. Going to the lake in Arkansas is even more fun when driving a Jeep that's equipped with both horsepower and the capability to tow the water toys like the family boat or camper. In the spirit of summer fun, McLarty Daniel Chrysler Dodge Jeep Ram Fiat in Springdale, AR would like to spark some inspiration by listing some of Arkansas' beautiful lakes and fishing areas that are perfect for some good ole family fun and a good workout for your Jeep.  
11333 West Arkansas Hwy. 74
West Fork, AR 72774
Starting our list close to home is our favorite, Devil's Den State Park, just 50 minutes south of Springdale. For some good fishing, Lake Devil which is an 8-acre lake located in the park is a favorite spot for the locals. Also, You can rent canoes and pedal boats for a nice day out on the water. If you want to stretch your legs on land, there are several hiking and biking trails, like Fossil Flats Trailhead that will lead you throughout the surrounding Ozark National Forest.
2027 State Park Entrance Road
Bismarck, AR 71929
Located near Hot Springs, AR, a four-hour drive south from Springdale, are the beautiful shores of DeGray Lake within the DeGray Lake Resort State Park. Trust us, the drive is worth it! DeGray Lake hosts tons of fun activities for the family from swimming beaches to guided horseback riding. Plus, there is a full-service marina that has bait and tackle, fuel, and boat rentals including party barges, kayaks, and pedal boats. You'll find first-class lodging and amenities at the DeGray Lake Resort or, if you like to rough it, there are many available campsite options.
2542 Hwy. 257
Lake Village, AR 71653
If you want to take the family boat and explore Arkansas' biggest natural lake, come visit Lake Chicot State Park, the home of Lake Chicot. It's the largest natural lake body in the Natural State as well as the largest oxbow lake in North America! Located in the delta region of Arkansas, it's one of the favorite fishing spots for Arkansas anglers. There are plenty of park programs that include lake and levee tours. For overnight stays, there are 14 cabins and 122 campsites available for you and your family to kick back and enjoy the delta-nights by the lake. Lake Chicot State Park includes a marina, park store, and a seasonal swimming pool.
There are many spectacular things to see in Arkansas and our favorites are the lakes and beaches. And there are plenty of those to visit. One of the spectacular vehicles to explore the Natural State is in a Jeep. No matter if it's a 2021 Jeep Compass or a 2021 Wrangler, Jeep makes durable and versatile SUVs that will see you all the way through the rugged and smooth travels. Come by McLarty Daniel Chrysler Dodge Jeep Ram Fiat in Springdale and begin your Arkansas adventures in the best of the best of SUVs. Browse our available selection of Jeep models and begin your journey here. 
CONTACT THE MCLARTY DANIEL CDJRF SALES TEAM