Aftermarket Parts and Accessories for the 2021 Jeep Wrangler 4xe
Are you ready to take your off-roading to the next level with the new 2021 Jeep Wrangler 4xe? Not only does the 2021 Wrangler 4xe deliver 21 miles of zero-emissions without range anxiety, but now you can accessorize with factory-backed, quality Jeep Performance and Mopar aftermarket accessories and parts. Below are some of the available parts and accessories for the new 2021 Jeep Wrangler 4xe with Mopar part number and price. Get the full off-roading experience in your 2021 Jeep Wrangler 4xe!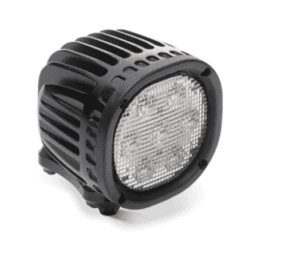 JPP 7-inch off-road LED light kit 
Stock #: 82215386AB 
Price : $725 
Emitting 8,000 lumens each, a pair of 7-inch off-road LED lights provide superior performance without shadows and give increased visibility. This is great to have for the ultimate off-road driving experience, especially for nighttime exploration.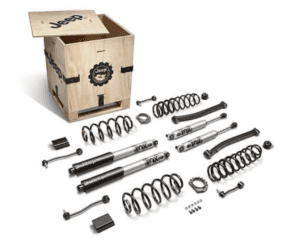 Stock #: 77072522 
Price: $1,495 
This is the first-ever lift kit for a plug-in hybrid vehicle, designed specifically for the Jeep Wrangler 4xe PHEV vehicle application. The kit includes four springs, four FOX shocks, front lower control arms, front and rear stabilizer links, front and rear bump stops, various fasteners, and the JPP badge.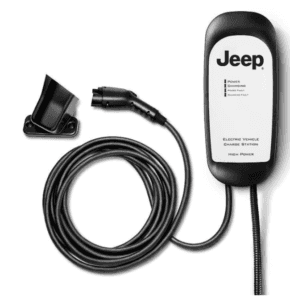 240-volt, At-Home, Electric Vehicle Wall Chargers
Stock #: HCS40 (hardwired) 
Price: $621.50
Stock #: HCS40P (plug-in)
Price $648
This will definitely come in handy around the garage. The 240-volt wall chargers are available in hardwired or plug-in versions for at-home use. The charging time is more than five times faster versus the standard cord set cable.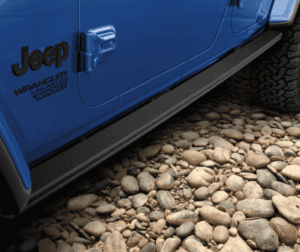 Stock #: 82215165AB 
Price: $925
Protect your Wrangler 4xe with JPP rock rails that provide added lower-body protection to the vehicle. Rails are roll-formed and constructed from zinc-coated steel for superior corrosion resistance. The outer surface is e-coated and then with a coat of DuraBull truck-bedliner coating to provide even superior protection. 
Make your Wrangler 4xe even more personalized and exceptional with Mopar and Jeep Performance Parts and accessories for that unforgettable driving experience. To purchase your parts and accessories, or for more part information, we make it easy for our customers at McLarty Daniel Chrysler Dodge Jeep Ram Fiat in Springdale. Just visit our Parts and Accessories page on our website. Or visit the complete JPP catalog at mopar.com/jpp.