McLarty Daniel CDJRF Receives 2022 DealerRater Consumer Satisfaction Award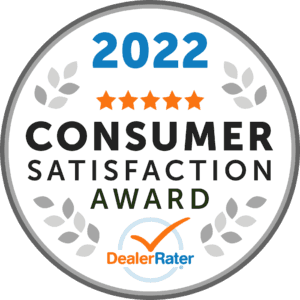 The 2022 DealerRater Consumer Satisfaction Award winners have been chosen and the results are in. It is our pleasure to announce that McLarty Daniel Chrysler Dodge Jeep Ram Fiat in Springdale has been selected as a recipient! This award is a big deal because it's only given to the top 10% of franchise dealers in the state by DealerRater and it's all because of you! 
The DealerRater Consumer Satisfaction Award is only given to dealerships that achieve a high enough rating based on customer reviews. This wouldn't be possible without any of our customers who shopped, purchased and serviced with us and then spent time writing positive reviews. We thank you all from the bottom of our hearts for recognizing our hard work and dedication!
The Consumer Satisfaction Award is intended to recognize dealerships that provide an exceptional customer experience as they are given out to a percentage of the top-rated dealerships on DealerRater. As a Consumer Satisfaction Award recipient, the dealership has received a Consumer Satisfaction Award banner on our DealerRater profile page. 
Criteria
Consumer Satisfaction Awards are given to the top 10% of U.S. new-car dealers as well as independent and Canadian dealerships that earn at least 25 reviews and maintain a minimum average review rating of 4.0 out of 5.0 during the calendar year. The scoring algorithm considers the dealership's average DealerRater star rating as well as the total number of reviews written about the dealership during the calendar year. 
Here are a few examples of five-star reviews from 2021 that factored into our 2022 award.
"My whole buying experience was pleasant and quick. McLarty Daniel Cdjrf treated me and my husband with respect and took care of all our needs."

-Kayscot21

"Service team went above and beyond [during] my scheduled service. Awesome job looking out for preventative care on my vehicle. Very informative in what was done."

-Rupple

"As always WONDERFUL service and always satisfied with each and every person we have ever felt…. That's why we always come back!"

-LuAnnaLyne
When in Springdale, stop by McLarty Daniel Chrysler Dodge Jeep Ram Fiat so we can give you the same top-notch customer service! We serve Springdale, Fayetteville, Lowell, Rogers, Huntsville, Siloam Springs, West Fork, Tonitown, Prairie Grove, etc. We'd love to have you as a customer as well.