Your 2020 Jeep Gladiator Off-Road Survival Kit
Summer is winding down and it's almost time for the kids to start back up again at school. There's still plenty of time to plan another fun-filled adventure, and what better vehicle to do it in than the 2020 Jeep Gladiator? Whether you're going camping along the Buffalo or roaming trails unknown, the Gladiator is more than ready to handle the rugged obstacles that Northwest Arkansas has to throw your way. Let's take a look at some must-have items in your off-road survival kit!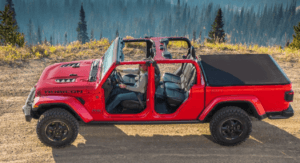 First off, water. Life's most vital element is water and if you find yourself flat out of water, LifeStraw would be there to save the day. A Platypus Gravity bag never hurts to have either. Simply store up to eight liters of water in the bag, hang it up and let gravity do the rest. Seriously, you don't want to be caught without water. 
While the 2020 Jeep Gladiator is built for off-road performance, sometimes human error can diminish the off-road vehicle's performance. Let's say you stop to camp for the night. You've got your tent set up, rain fly on just in case and hot dogs roaring on the fire. But, you forgot to turn off your car's lights. Whoops. You're going to need a jump or a new battery to get the Gladiator running again, but never fear, Uncharted Supply Company's "Zeus" Battery is strong enough to revive even the largest trucks. It even has USB outlets in the event of a dead phone or GPS. Definitely a must-have for an extended outdoor excursion. 
You can never plan for all of the random scrapes, bruises and, needless to say, plenty of bug bites along the way. A reliable first-aid kit is essential to every off-road adventure. Hey, it never hurts to be safe than sorry. You can pick up a starter safety-kit at just about every drug-store or supermarket, but if you're looking for something a little more all-encompassing, check out the Sportsman 400. This kit is sure to patch up everything from the smallest of scrapes to splinting the most-painful of sprains. 
There's plenty of optional gear for any adventure, allowing you to mix-and-match your gear to fit your level of expertise. We know that you'll be blown away by the Gladiator's performance and would love to help you get behind the wheel of Jeep's mid-size truck! Here at McLarty Daniel Chrysler Dodge Jeep Ram FIAT in Springdale, we're committed to bringing you the best selection of Jeep Northwest Arkansas has to offer. Gladiators are in high-demand right now, but we're more than ready to help you order one of these bad boys or keep you updated when we have more on our lot. Go ahead and fill out our contact form and we'll keep you in the loop. Northwest Arkansas, we hope to earn your business here at McLarty Daniel Chrysler Dodge Jeep Ram FIAT in Springdale!