Winner of Jeep Top Canine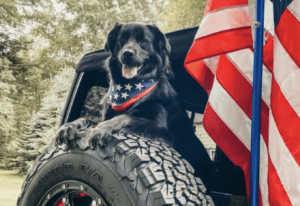 Jeepin' is better with a four-legged pal, for some quality time with man's best friend. This year Jeep honored the brand's legions of dog-lovers with the first-ever Jeep Top Canine Search. The Jeep family of owners responded with tons of entries of their favorite canines. The winning pooch will be the cute and furry face of the Jeep brand across its social media channels, appearing in exclusive content for the next year. On National Dog Day 2020, Jeep Brand named its first-ever #JeepTopCanine, thanks to Jeep fans' votes! This is one more fantastic way for the Jeep brand to give its followers a chance to be a part of its nearly 80-year legacy.
MUCH LOVE FOR JEEP AND CANINE: Over the years, social media has been bombarded with fantastic content displaying Jeep owners with their lovable pooches in the family Jeep. This year, Jeep gave fans and followers an opportunity to show appreciation for their beloved four-legged friends and were invited to post the best photo of their pups with their Jeep vehicle, then tag it with #JeepTopCanine on Instagram and Twitter, or upload it to www.JeepTopCanine.com. The winning hound will be the face of the Jeep brand in its social media channels and content for 2021. 
HOW TO CHOOSE: The hard job of choosing the adorable dog that will be the canine face of Jeep was left to avid fans all over. To be eligible for the contest, the canines must be well behaved, up-to-date on vaccinations, and properly licensed. Also, the pooch must be able to travel on planes and must meet all flight regulations. Thousands of entries were sent in and this year eight finalists were chosen by a judging process. Out of the eight, the winner was chosen. All eight finalists can be viewed at www.JeepTopCanine.com. 
CONGRATS TO THE WINNER! On August 26 Jeep Brand named the first-ever winner of the   Jeep Top Canine contest, which was the lovable good boy Bear who lives with his owner in Northborough, MA. Bear will be featured in exclusive Jeep brand social media content for one year, until National Dog Day 2021. 
Displaying our four-legged friends in our favorite sports utility rides was a fantastic idea, and Jeep's Top Canine contest has been a huge success as an outlet for Jeep lovers to shine with their best traveling buddies. Congratulations to Bear, his owner, and everyone who entered the Jeep Top Canine Search!

If you want to get more adventure out on weekends with your pet? Explore new terrain in a new 2020 Jeep! Come by McLarty Daniel Chrysler Dodge Jeep Ram in Springdale, and find the Jeep that's perfect for your family and four-legged traveling companions.
CLICK HERE TO CONTACT MCLARTY SALES SALES TEAM