What is Jeep's Badge of Honor app? | McLarty Daniel CDJRF of Springdale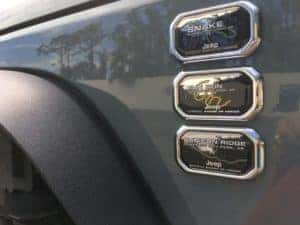 One of the coolest things about owning a Jeep Wrangler is that, while you're buying one of the most capable and most rugged off-roaders ever made, you're also buying into a worldwide community of Jeep owners, complete with meetups, trail parties, prototype debuts and the general camaraderie that comes with owning an example of one of the most iconic and instantly recognizable vehicles of all time.

Jeep is understandably proud of that legion of devoted fans, and so they often debut new things to keep Jeep owners involved. One of the coolest is Jeep's Badge of Honor program. A free, downloadable app that's available for Apple iPhone or Android smartphones, the Badge of Honor app is a social media-like experience that allows you to check in at famous, Jeep-approved trails scattered all over the country (including three in Arkansas), check the weather there, post photos, earn points for free stuff, and generally connect with other Jeep owners across the United States as they have fun in their Jeeps.

Maybe coolest of all, the Badge of Honor program includes the ability to earn actual hard badges, designed by Jeep, by visiting and conquering the trails listed in the app. They're not stickers, but are something more like a factory emblem. The badges are free, and available for all 49 trails listed on the Jeep Badge of Honor app, including Rubicon Ridge, Fun Run and The Snake at Hot Springs ORV Park.    

Click here to download the Badge of Honor app for Apple devices

Click here to download the Badge of Honor app for Android devices 

The only app, points and reward program officially licensed and administered by Jeep's parent company FCA America, the Jeep Badge of Honor program is only open to Jeep owners, who must verify their ownership when they register for a profile on the Badge of Honor app by inputting their vehicle's unique VIN. When you open the app, you'll see a featured trail on the home screen, with the current weather conditions there, how much daylight remains before sundown and more. Click the map icon, and you'll see a map of the United States, with your current location as a blue dot and each Badge of Honor trail marked with a yellow pin. Below the map, the trails nearest to your current location are listed first.  

Each trail listing features a difficulty ranking, from easy two to extremely difficult nine. Click on each listing and then tap the rectangular tab that appears over the map location you've selected, and you'll be presented with a screen showing the trail's general terrain, how many Jeepers have checked in there, directions to the location, weather, general information and photos taken by Jeep owners who have visited.

In order to claim your digital Badge of Honor for the location, just drive there and click the app's "Check In" button while at the location. In order to request a physical hard badge that you can put on your Jeep for bragging rights, you'll have to go to your Badge of Honor app profile page, see which Badges of Honor you're eligible for, then type in the VIN number of your Jeep to prove you're actually a Jeep owner. Hit send, and your unique badge will be on its way to you in no time, ready to apply to your fender or tailgate with the supplied automotive double stick tape.

For more information about the Jeep Badge of Honor program, visit the BoH official website at https://www.jeep.com/badge-of-honor.html  It's another great program for everybody who loves their Jeep. Still in need of a Jeep to help you hit the trails? Then stop by McLarty Daniel CDJRF of Springdale today and check out our big selection of Jeep vehicles. Put one in your driveway, download the Badge of Honor app, and then get out there and start exploring! We'll see you on the trail!