What are the Advantages of Buying, Driving a Hybrid?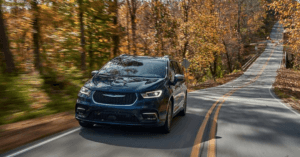 It's all about hybrids and electric vehicles in the auto industry right now. Every manufacturer either has a hybrid for sale or has released plans to roll one out, along with an EV in the next few years. Are you considering buying a hybrid for the first time? There are plenty of advantages to buying and driving a hybrid. In this blog, we'll cover the biggest ones. At McLarty Daniel Chrysler Dodge Jeep Ram Fiat, we've done the research and we're excited to share it with you.
Savings
According to AAA, our nation's current gas price average for regular unleaded gas is $3.29 per gallon. That $3.29 a gallon adds up to hundreds of dollars over the course of one year, and even thousands if you're a heavy driver. With a hybrid, you could cut that cost in half. Hybrids cost more on the front end, but over time the savings far exceed the overall price of the vehicle. When driving a hybrid you can spend the money you saved on gas enjoying the outdoors, like visiting beautiful Arkansas lakes. 
What does this mean for our environment?
Hybrid cars and trucks produce cleaner emissions than full gas or diesel-fueled vehicles. When driving, vehicle exhaust releases carbon dioxide, which threatens human life, and carbon dioxide, which is a significant contribution to global warming. 
Do you need any special equipment?
Nope! Hybrids don't require any special equipment whatsoever. If you purchase a plug-in hybrid, it comes equipped with a converter that changes standard AC power from your home into DC power needed to recharge your vehicle. This process takes a bit longer than a charging station would, but it is certainly doable. If you would like to cut your charging time in half, you could install electric vehicle service equipment (EVSE) at your home as EVSE supplies 240 volts of electricity. A great example of a plug-in hybrid vehicle is the Chrysler Pacifica Hybrid, which was named best hybrid vehicle by good housekeeping.
If you have any more questions, or you are looking to purchase a hybrid, call or stop by McLarty Daniel Chrysler Dodge Jeep Ram Fiat in Springdale, Arkansas. We serve Springdale, Fayetteville, Lowell, Rogers, Huntsville, Siloam Springs, West Fork, Tontitown and Prairie Grove drivers. See you soon!