Tire Pressure and the Cold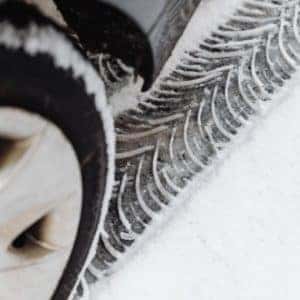 Does cold air affect tire pressure? The answer is yes. But, don't be alarmed when you see your tires have lost air pressure. Low air pressure this time of year isn't necessarily because there's a hole in your tire or because you have a bad valve. Let us at Mclarty Daniel Chrysler Dodge Jeep Ram Fiat break it down for you!
Why does cold weather affect my tire pressure?
Winter weather affects tire pressure because, as the temperature lowers, air is cooled causing the air to compress. You'll often notice, as you drive throughout the day, your tire pressure will go up. That's because as the air warms up, it evaporates and turns to a vapor. This allows the air in the tires to expand.
How often should I check my tire air pressure?
Tire pressure can lower after a vehicle hasn't been driven for several hours. Over those hours the cold air has a chance to lower your vehicle's air pressure. If your vehicle was made within the last five to 10 years, you can checkr tire pressure from your vehicle dashboard screen. In cold weather, we recommend checking your tires every time you get in your car. If your car is older and you can't check pressure from the interior, it's a good idea to check  every other day, or daily if you can, in the morning before leaving your house with a gauge. It's better to be safe than sorry! 
How much air should I put in my tires?
The answer to this question is it depends on your car and what type of tires you have. Check your manufacturer's recommended tire pressure chart for the vehicles that came on your car when you purchased it. Every vehicle manual has this information, and it's usually inside the driver's door as well. If you've purchased new tires since you've bought your vehicle, or if you purchased your car used, check the tire manufacturer's recommended tire pressure. Tires will usually have the numbers you're looking for on the sidewall of your tires as well. Do not exceed the maximum amount of pound-force per square inch (PSI) as this risks a blowout. 
Browse our tire and alignment coupons
If you have any more questions about tire pressure, call or stop by McLarty Daniel Chrysler Dodge Jeep Ram Fiat in Springdale, Arkansas. We serve drivers in Springdale, Fayetteville, Lowell, Rogers, Huntsville, Siloam Springs, West Fork, Tontitown and Prairie Grove. We'd love to hear from you!