Three fun things to do during LPGA tournament week in Northwest Arkansas! | McLarty Daniel CDJRF of Springdale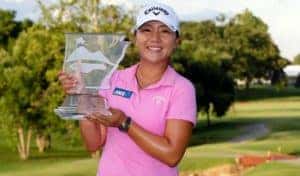 It's June, which means it's time again for the Walmart Northwest Arkansas Championship LPGA golf tournament, sponsored in part by McLarty Daniel Auto Group! Started in 2007, the NWA Championship has evolved into a full week of events, with opportunities to eat, run, network, have fun or get up close with the superstars of the LPGA tour.
This year, events associated with the Walmart NWA Championship will be held from June 18-24 at various locations, including downtown Bentonville, the John Q. Hammons Center and the Walmart AMP amphitheater. The official tournament will run from June 22-24 at Pinnacle Country Club in Rogers. For more information, or to purchase tickets, click here to visit their website for more details and a full schedule.
Click here to browse the selection of new vehicles at McLarty Daniel CDJRF of Springdale
Golf isn't all there is to the NWA Championship, of course. Read on for just a taste of some of the great events happening during LPGA tournament week in Northwest Arkansas.

1) RUN!: June is a terrific time to head out for a run, and the "5k @the LPGA" event is a terrific time to get out the running shoes and strut your stuff for a great cause, with a 5k, 1k fun-run, and "Corporate Challenge" for company groups, with prizes awarded in categories like"fittest office" and fastest group average time. The 5k @ the LPGA five-kilometer run will be held on Saturday, June 23, with proceeds benefiting the Mercy hospital system. Early registration is $20, and all participants receive a t-shirt, a free breakfast after the race, a daily ticket to the NWA LPGA championship, a race medal, and the good feeling that comes from knowing they've helped out one of the hospitals that helps keep Northwest Arkansas healthy and happy.
2)  EAT!: The three-night "Bite NW Arkansas" event, now in its fourth year, runs from 6 to 9 p.m. nightly from June 20-22 at 8th Street Market in downtown Bentonville, and is a chance for the culinary community of Northwest Arkansas to show there's more to eat here than chicken strips and barbecue. Drawing on all the delights of the Northwest Arkansas food culture in NWA, there's a different theme on each night of Bite NW Arkansas, with chefs from some of the best restaurants in the region dishing up all the fanciful flavors our burgeoning restaurant scene has to offer. Tickets are $30 for each night of Bite NW Arkansas, with proceeds benefitting the Northwest Arkansas Food Bank.
3) EMPOWER!: The Northwest Arkansas Championship LPGA tournament is bringing some of the world's greatest athletes to town, and for the vast majority of them, there was a turning point where some role model told them anything was possible. Fostering that physical and mental strength in the next generation of women athletes is what the Yoga for Girls event, sponsored by Dove, is all about. The event will be held on Tuesday, June 19 beginning at 10 a.m., and it's free to enter for girls ages 6 to 12 and their parents or roll models, who are welcome to join them in their yoga routine. The event will include a special pep talk by an LPGA star who will share how her role models and practicing yoga has changed her life. The first 200 participants to sign up get a free gift.

McLarty Daniel Chrysler Dodge Jeep Ram Fiat of Springdale and the McLarty Daniel Auto Group are proud to help sponsor the Walmart Northwest Arkansas Championship LPGA event. We've made a commitment to truly being part of the fabric of community in Northwest Arkansas, and making this place we call home a flourishing and fun place to live.
Click here to contact McLarty Daniel CDJRF, or click here to read about our Customer First Award For Excellence.

McLarty Daniel CDJRF of Springdale is a new and used vehicle dealership that is proud to serve the communities of Northwest Arkansas, including Springdale, Bentonville, Rogers, Fayetteville, Bella Vista, Siloam Springs, Pea Ridge, Fort Smith, and all points in between.