The NWA Sunflower Jubilee you just can't miss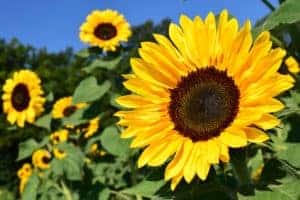 As the hot summer sun starts to dwindle down, our minds are jumping to thoughts of fall and cooler weather. It'll certainly be warm for a while in Arkansas, but fans of summer can head to the Sunflower Jubilee at Farmland Adventures for a celebration of what's to come and a celebration of the final days of summer. Looking for a new ride to get you and your family around the state for exciting adventures like the Sunflower Jubilee? Look no further than McLarty Daniel Chrysler Dodge Jeep Ram FIAT of Springdale. We have an incredible selection of vehicles, like the 2019 Dodge Journey and would love to get you behind the wheel of a new ride!
Opening weekend for the 2019 Sunflower Jubilee starts this weekend, Friday, September 6 and will continue on Saturday. Admission into Farmland Adventures is just $6 and your ticket in brings a whole lot of adventures with it. For directions to Farmland Adventures and more information about the farm, head to their website.  
The Parson family has always kept a massive corn maze on their farm, perfect for late summer and early fall adventures. Meticulously designing the maze so that it creates a unique picture from a top-down view is one of their favorite things to do and Farmland Adventures has always had exciting themes for their corn maze including: Knights and Castles, Wild West Adventures and even an African Safari. However, this year's theme will be Let Freedom Ring, complete with the Liberty Bell and an American Bald Eagle incorporated into the design.  
Make a whole day out of the trip and stay for the petting zoo and wagon rides! Farmland Adventures has sheep, pigs, goats, calves, alpacas, ponies, mules, donkeys, zonkeys and a zebu all available for plenty of petting and a heart amount of fawning over. Pony rides are included with admission and the kids will certainly have fond memories of riding at Farmland Adventures. Smaller children can explore the Kids Play Area at Farmland Adventures. Whether roaming through the straw bale maze, playing in the hay bale pyramid or constructing another wonder of the world in the corn box, they'll be sure to smile all day long. 
Be sure to mark your calendars for the Sunflower Jubilee. You don't want to miss out on this end of summer fun, perfect for the whole family! Still thinking about a new ride? We'd love to show you all that the 2019 Dodge Journey has to offer. You can fill out our contact form, give us a call or use the map located on the right to visit us in person. We hope to serve you here at McLarty Daniel Chrysler Dodge Jeep Ram FIAT of Springdale!