Supercharged Hellcat, Demon and Trackhawk models break $3 billion in gross sales | McLarty Daniel CDJRF of Springdale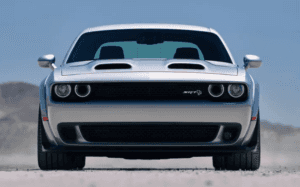 Just when you thought the high horsepower Hemi Chargers and Challengers of the 1960s had roared their last, the great American muscle car is back and better than ever, with old fashioned engineering and high-tech superchargers making today's Dodge and Jeep products better and more powerful than they were even in the Good Ol' Days.

With the Challenger and Charger Hellcats and Jeep Grand Cherokee Trackhawks now the undisputed kings of modern horsepower, it's hard to believe there was a time when people believed developing and putting the brand's cutting edge, supercharged 6.2-liter Hemi in production cars would be a money loser for Dodge and Jeep's parent company Fiat-Chrysler. Since the first supercharged Dodge Charger was introduced in 2014, however, the brand has consistently proven the naysayers wrong on the subject of Hellcats, Demons and Trackhawks, with the public snapping up the ultimate performance models as fast as they can be produced.  

With the American thirst for uncompromising horsepower apparently limitless, FCA recently crossed the $3 billion dollar mark in gross sales of their supercharged Hemi cars and SUVs. With other high-performance supercharged Hemi V8 vehicles apparently in the works, including rumors of a Ram 1500 Hellcat pickup truck by 2020, and the introduction of the new 2019 Widebody Hellcat Challengers — which feature Challenger Demon-style fender flares to allow the cars to run much wider tires for more grip — $4 billion in gross receipts for supercharged Hemi models could come quicker than you think.

Since the supercharged 6.2-liter Hemi V8 was introduced in the 2015 model year, FCA has built over 30,000 vehicles powered by the engine, which is topped with a low-profile, high-volume twin-screw supercharger. That total is shared between the Dodge Challenger and Charger Hellcat, Dodge Challenger Demon, and Jeep Grand Cherokee Trackhawk models, but doesn't include vehicles already sold for the 2019 model year. In addition to the high-horsepower Hemi engine, the vehicles include high-performance go-fast goodies like large-diameter racing disc brakes, beefed up drivetrain components, and a special "launch" mode that optimises the engine, transmission and pther vehicle systems for the dragstrip.

The highest horsepower supercharged model FCA has produced so far was the 2018 Dodge Challenger SRT Demon, with 840 horsepower on tap, produced in a limited-edition run of only 3,300 examples. The stratospheric amount of horsepower and torque produced by the 6.2-liter Demon engine, along with engineering tricks like an intercooler that re-routes the air conditioning to chill the air coming into the engine, allowed the 2018 Challenger Demon to go from zero to 60 in 2.3 seconds and run the quarter mile in a lighting-fast 9.65 seconds at over 140 miles per hour. On takeoff, the Demon could actually pull the front tires into the air — the only production car ever built with that ability. The other supercharged Hemi cars built since 2015 produce 707 horsepower.

For the 2019 model year, the Dodge Hellcat SRT Charger has a starting price of $65,345, while the Dodge SRT Hellcat Challenger starts at $58,650. The 2019 Jeep Cherokee Trackhawk, meanwhile, has a starting price of $86,650.

It's another way that Dodge and Jeep are pushing American automobile design and engineering boldly into the new century. If you're looking to buy a 2019 Challenger, Charger or Jeep Grand Cherokee in Northwest Arkansas, stop in today at McLarty Daniel CDJRF of Springdale, where our great selection, on-site service center, and attention to your needs after the sale will make you a customer for life! Come see us for a test drive soon, or browse our entire lineup online right now!