Summer Road Trip Hacks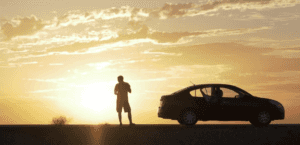 It has been a rough spring, but summer is here and in full swing! It is definitely time to gear up, pack up the kiddos, and hit the road for some quality time out of the house. Road trips with the whole family can be fun and exciting, but it's always a challenge to get to your vacation destination with your sanity intact. Well, not to worry, part of having a great road trip is being prepared with everything you'll need to make it stress-free. McLarty Daniel Chrysler Dodge Jeep Ram of Springdale would like to offer a few road trip hacks to make your vacation a pleasant experience with the family. 
DIY SICK SACK: Here is a road trip hack for those family members who are prone to getting car sick. Create a DIV ready-to-go car sickness kit out of a plastic storage bag containing the essentials: a few air-sickness bags borrowed from your next airline trip (or, in a pinch, doubled brown paper bags), cleaning wipes, mints or hard candies to help fight off nausea, and over-the-counter medicines to help with motion sickness. 
TRASH STORAGE: With all the pit stops for bathroom breaks and snacks, you might start a collection of used snack wrappers and empty beverage cans that will have you running out of legroom due to all the clutter. Don't fret! The best hack for that is transforming an inexpensive plastic cereal container into a clever trash collector. Insert a small trashcan liner in the cereal container and then you are ready to hit the road while keeping your ride clean. 
SNACK CONTAINERS: When you're traveling with little ones or even messy teens, a great way to keep from finding crumbs and old food between the seat cushions is recycling used coffee creamer containers into snack containers. They are easy to fill up with the kids' favorite snack, feature a snap lid that closes tight to prevent spills, and they're easy to manage while on the road. 
DIY SMARTPHONE HOLDER: It gets pretty hairy driving when you're trying to keep an eye on the road and on your smartphone map directions at the same time, especially when you are trying to find a location without getting lost. This road trip hack is inexpensive and saves room at the console. Take a binder clip and wrap a couple of sturdy rubber bands around the arms of the clip, and there you have a makeshift smartphone holder. Place your phone between the arms, and then you will be able to clip it onto your air vents to have easy visibility while driving. 
HELPFUL SMARTPHONE APPS: For long road trips, your smartphone becomes a vital tool not only for your kids to play games on but also to give access to some road trip-friendly apps. Might we suggest the app, SitOrSquat, which helps you find clean public restrooms while on the road. There is also GasBuddy, the app that helps find places to fill up on gas at the cheapest price. 
We hope these summer road trip hacks are helpful for you and your family when out on the open road enjoying quality family fun. If you are in the market to purchase a new vehicle for your summer excursions, don't hesitate to contact your friends at McLarty Daniel CDJR in Springdale. Let us assist you with your vehicle needs. Be safe and have a great summer!