Six Famous Film Locations in Arkansas! | McLarty Daniel CDJRF of Springdale
From the mountains of Northwest Arkansas to the piney woods of South Arkansas, the cropland of the Delta to the swamps of Southeast Arkansas, the Natural State has pretty much every kind of terrain short of a desert or a frozen tundra. Knowing that, it's easy to see why film directors and movie location scouts have flocked here since the early days of cinema, looking for locations. There's been over 50 full-length films shot in Arkansas over the years, plus hundreds more film shorts and TV episodes. If you're a film buff looking for a weekend road trip to take in that great new or used car you bought from McLarty Daniel Chrysler Dodge Jeep Ram Fiat, you've come to the right place. Read on for six famous film locations in Arkansas. If you're in need of a new or used vehicle to get you there, you've also come to the right place: McLarty Daniel CDJRF of Springdale! Stop in today for a test drive, shop our big selection of vehicles online, and read on for a few places that saw lights, camera and action in the Natural State!
Click here to shop our selection of new vehicles
The Old Mill
North Little Rock
Seen in: "Gone With the Wind" (1939)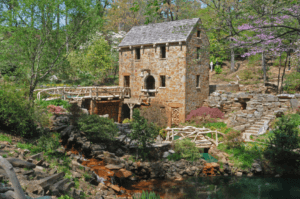 Though it made one of the most memorable Arkansas location appearances ever in a major Hollywood film, a brief glimpse during the opening credits of the 1939 Civil War classic "Gone With the Wind," North Little Rock's Old Mill turns out to not be an actual mill at all. Though it looks the part, with multiple floors, a mill wheel that once turned, and internal details like railings pulleys and a mill stone, the Old Mill is actually only a replica of a classic American grist mill. At the time of the filming, it was only a few years old having been created by Mexican artist Dionicio Rodriguez as the centerpiece of a park which was itself the centerpiece of a neighborhood going up in the area. Though the mill looks like it is made of wood, right down to the grain in its doors, is actually all concrete, as are the stunningly intricate, fairytale-like "log" benches, bridges, benches, troughs and arches around it. A favorite backdrop for portraits and wedding photos, today, the Old Mill is the last structure seen in "Gone With the Wind" that's still standing.


I-30 Speedway
Alexander
Seen in: "White Lightning" (1973)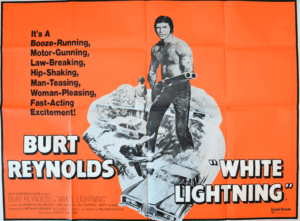 Directed by John Sargent, 1973's "White Lightning" stars up-and-coming Hollywood leading man Burt Reynolds, still years from superstardom in flicks like "Smokey and the Bandit" as Arkansas moonshine runner and stock car racer Gator McKlusky, an Arkansas prison inmate who cuts a deal with the feds to gain his release, infiltrating the local illegal moonshining operation in order to seek revenge against the corrupt local Sheriff (Ned Beatty, who co-starred with Reynolds in 1972's "Deliverance") after the Sheriff and his minions kill McKlusky's brother. An underrated classic of the 1970s fast cars genre, "White Lighting" was shot in several locations in Arkansas, including a car chase through the Benton town square, McKlusky emerging from a real-life Arkansas Department of Correction prison near Grady, and I-30 Speedway, a still-operational stock car dirt racing track then known as The Benton Speedbowl.

Downtown Camden
Seen in: "Boxcar Bertha" (1972)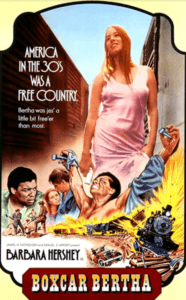 In 1972, following up on  the cult success of "Bloody Mama," which he'd filmed in Arkansas, schlock director and producer returned to Arkansas to shoot another Depression-Era film, "Boxcar Bertha." Loosely based on real-life train robbers Boxcar Bertha Thompson and "Big" Bill Shelly, who become wanted fugitives after a gambler was murdered, the film stars big names like David Carradine and Barbara Hershey, and was largely shot in the southwest Arkansas town of Camden. While it's not a great film, the most interesting thing about "Boxcar Bertha" is who was behind the camera: a young Martin Scorsese, the brilliant, Oscar-winning director who would go on to direct classics like "Goodfellas," "Taxi Driver," "Raging Bull," "Casino," "The Wolf of Wall Street," "Gangs of New York" and loads of other great American films.


The Matilda and Karl Pfeiffer Museum and Study Center
Piggott
Seen in: "A Face in the Crowd" (1957)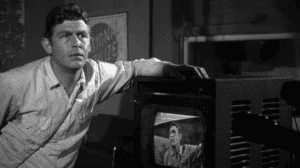 The great director Elia Kazan came to the northeast Arkansas town of Piggott in 1957 to shoot portions of his classic "A Face in the Crowd." Starring a young Andy Griffith, Lee Remick and Patricia Neal, the film is a cautionary tale about the meteoric rise and sudden fall of Larry "Lonesome" Rhodes (Griffith), a shiftless drifter who attains previously undreamed of levels of money, power and political influence through devious manipulation of both radio and the fledgling television medium before his hubris lays him low. The mansion of local leading lights Matilda and Karl Pfeiffer makes a cameo in the film as Rhodes' palatial estate, complete with the swimming pool the production company had put in for the scene. Today, the house is the Matilda and Karl Pfeiffer Museum and Study Center, and open to the public. Other scenes for the film were shot at the Clay County Courthouse and a local football field.     
Piggly Wiggly Grocery Store
Dumas
Seen in: "Mud" (2013)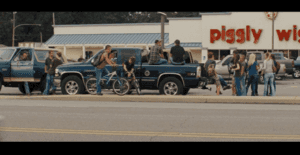 Screenwriter, director and Little Rock native Jeff Nichols has been slowly making a name for himself as one of the best young directors working in Hollywood today, and the film that really helped him arrive was 2013's "Mud," starring megastar Matthew McConaughey as a fugitive who seeks the help of two boys in Southeast Arkansas. Nichols fought hard with the studio to make sure the movie was filmed in Arkansas, and when he got his wish, he did so in a lot of real southeast Arkansas towns, including Dumas and Stuttgart. The Piggly Wiggly grocery store on Highway 65 in Dumas was a crucial interior and exterior backdrop for several scenes, as was the Executive Inn Motel just down the street.
Garry's Sling Blade Drive-In
619 Cox Street, Benton
Seen in: "Sling Blade" (1996)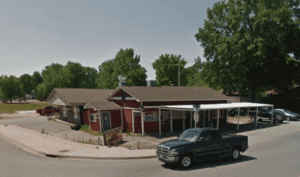 Made on a shoestring budget by the then largely-unknown writer, actor, director and Malvern-native Billy Bob Thornton, the simple, powerful story of friendship and sacrifice seen in 1996's "Sling Blade" went on to win the hearts of millions of moviegoers, a Best Actor Oscar nomination for Thornton, and an Academy Award for Best Adapted Screenplay in a year when romantic juggernaut "Titanic" mostly ruled the other categories. "Sling Blade" was almost wholly shot in the Saline County town of Benton, and you can still have some of them French-fried pertaters at the same restaurant where the film's childlike protagonist Karl Childers liked to get his in the film: Garry's Drive-In on Edison Ave., now called Garry's Sling Blade. It's a great bit of Arkansas film history, and a classic little diner with terrific food, too.  
If you're looking to get out to where the lights, camera and action are this summer and fall, come see us today at McLarty Daniel Chrysler Dodge Jeep Ram Fiat in Springdale. With hundred of new and used cars of every make and model, plus easy in-house financing, we're sure to be able to find you the car you need to find your own silver screen-worthy adventures in The Natural State. Stop in and see us today, or shop our big selection of great cars, trucks, vans and SUV's online.
Click here to contact McLarty Daniel CDJRF of Springdale, or click here to visit our finance department.