Our ten favorite features of the all-new 2020 Jeep Gladiator pickup! | McLarty Daniel CDJRF of Springdale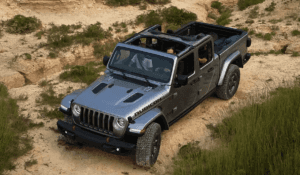 Jeep recently debuted the all-new 2020 Jeep Gladiator pickup at the Los Angeles Auto Show, and one look at it got us stoked to have them on the lot here at McLarty Daniel Chrysler Dodge Jeep Ram Fiat of Springdale! It's the first real-deal Jeep pickup in over 20 years, and that would definitely be something to celebrate even if it didn't look like a million bucks on four tires. It's going to be several long months before the Gladiator roars into our dealership, just in time to make Summer 2019 better than ever!

While it's hard to pin down our favorite features of the 2020 Jeep Gladiator, we're gonna give it a shot below. Read on for our ten favorite features of the all-new 2020 Jeep Gladiator pickup, which Jeep promises will be the most capable mid-size pickup ever built. And if you want to be one of the first in northwest Arkansas to get your hands on the 2020 Jeep Gladiator, stop in today at McLarty Daniel CDJRF in Springdale, talk to our friendly sales department and get pre-approved for financing. With our friendly hometown deals and unbeatable service after the sale, we can and will make you a customer for life!

1) INCREDIBLE STYLING: Though the 2020 Gladiator has a five-foot pickup bed out back, the fact that it's largely based on the rugged, all-business styling of the Jeep Wrangler JL is hard to miss. Though the 2020 Gladiator is 19.4 inches longer than the Wrangler — making it the longest vehicle Jeep makes — the result is a truck that looks both old school and modern, purpose-built for adventure, square-jawed and tough from bumper to bumper.  

2) BEST IN CLASS TOWING: While other midsized trucks may brag about their capability, there can only be one top dog. Woof-woof, goes the 2020 Gladiator, with up to 7,650 pounds of maximum towing when properly equipped.

3) BEST IN CLASS 4×4 PAYLOAD: Though 4×4 drivetrains are a heck of a lot of fun off-road, 4×4 trucks usually come with a tradeoff in payload capacity, given their mushier, crawl friendly springs and running gear. Not the 2020 Jeep Gladiator, though. Bombproof Jeep engineering means up to 1,600 pounds of hauling, on or off-road.

4) LOSE THE DOORS!: Sharing the basic design architecture of the Jeep Wrangler JL not only makes Gladiator look great, it gives it quite a few superpowers that are unique in the automotive world. One of them is the ability to quickly and easily remove the lightweight aluminum doors just by spinning out eight bolts with the supplied tool kit, for fair-weather, open-air fun.

5) BLOW THE ROOF OFF!: Same drill from number 4 seen above: take out a handful of bolts with the supplied toolkit, and the lightweight composite top comes off for easy storage. That makes the 2020 Jeep Gladiator the first true, factory-built topless pickup since the 1991 Dodge Dakota Sport Convertible.

6) LAY DOWN THE WINDSHIELD!: We said the 2020 Jeep Gladiator had some superpowers, didn't we? Take out four more bolts, and the windsheld lays down onto the hood, cushioned by rubber bumpers. Thanks to the fixed windshield header shared by Gladiator and the Wrangler JL, the integrity of the built-in safety cage remains intact even with the windshield down, as does the rearview mirror.

7) AVAILABLE PREMIUM SOFT TOP: If you prefer the looks, simplicity and/or ease of use of a folding cloth convertible top, the 2020 Gladiator can be equipped with the premium Sunrider ragtop, which can either be folded partway or fully in seconds flat, and put back up just as easily. In Arkansas, where the weather can change by the minute, it's a great compromise bet.

8) A REAL STEEL BED: The 2020 Jeep Gladiator isn't just playing at being a truck. It really IS a truck, with rugged body-on-frame construction. Out back is a five-foot cargo box made of cold rolled steel for added durability, with innovative features like modular tie downs, available spray-on bedliner, a three-function tailgate, task lighting and more.

9) UNSTOPPABLE RUBICON DRIVETRAIN: Rugged styling isn't all the Gladiator shares with Wrangler. The 2020 Gladiator can be equipped with the unstoppable Rubicon package, with 33-inch all terrain tires, wide-track Dana 44 axles, larger fender flares, ball-peen hammer tough Rock-Trac 4×4 system, front and rear electronic swaybar disconnect, and more.

10) LEGENDARY JEEP CAPABILITY: Jeep is known the world over for unmatched off-road capability, and the 2020 Jeep Gladiator carries on that great family tradition by being the most capable mid-sized truck on the planet. Advanced electrical sealing and a high-set air box mean you can ford water up to 30 inches deep with confidence, which the exclusive available off-road camera in the grille on Gladiator Rubicon gives you a front-mounted view of obstacles. Protective rock rails along the base of the cab and bed keep delicate sheet metal from getting dinged no matter what the trail throws at you, while a full complement of underbody skid plates protect vital components.

We've only scratched the surface of all the great things to say about the all-new 2020 Jeep Gladiator, the first new Jeep truck in 17 years! Want to buy a 2020 Jeep Gladiator in Northwest Arkansas? Of COURSE you do! Get the ball rolling by stopping in at McLarty Daniel CDJRF in Springdale, where we can make sure you're one of the first to get the keys to this incredible new truck from Jeep! Come see us!