Our favorite places to camp in Northwest Arkansas | McLarty Daniel CDJRF of Springdale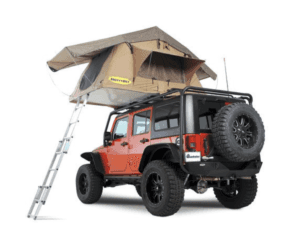 Summer's here, and it's a great time to get out there and see the beauty, peace and splendor of Northwest Arkansas. For our money, there is no better way to do that than by packing up your tent, camp chairs, ice chest and marshmallow-toasting sticks and finding your way to one of the many, many great places to camp in the Ozarks and Boston Mountains. There's too many great camping spots in our area to list in full here, of course, but we thought we'd reel off just a few of our favorites. So… what are you waiting for? Get out there and make some memories! And if you need a great new or used vehicle to get you there, shop our big selection at McLarty Daniel CDJRF of Springdale!
Devil's Den State Park
11333 W. AR Hwy. 74 West Fork, AR

Established during the Great Depression by FDR's Civilian Conservation Corps, Devil's Den State Park still includes many CCC-built structures, including the stone dam that impounded Lee Creek to create the lovely Lake Devil. In addition to hiking, backpacking and mountain bike trails along with canoe and paddle boat rentals, the park features seventeen romantic and fully equipped cabins, all with wood-burning fireplaces, if you want to go "glamping." If you have a slightly more rustic experience in mind, Devil's Den also features 143 campsites for tents, including 44 class AAA sites with water, electrical and sewer, 24 class D campsites, and eight that are "hike in" only, meaning you've got to work to get to them. There are showers, garbage pickup, and plentiful opportunities for adventure or peaceful reflection. Feel free to bring your horse, too. There's 20 miles of riding trails at Devil's Den. Camping rates range from $13 to $34 per night, depending on amenities. For more information, visit their website at www.arkansasstateparks.com/devilsden
Withrow Springs State Park
33424 Spur 23, Huntsville
The Arkansas State Park system is full of undiscovered, off-the-beaten-path gems with all the beauty of the parks that get all the headlines, but a fraction of the visitors. One of those is Withrow Springs State Park near Huntsville. Secluded deep in a valley hemmed by limestone bluffs along War Eagle Creek, the petite park is a favorite spot for camping, with opportunities for fishing for a number of sport fish species, canoe rentals, and hiking on War Eagle Trail, Dogwood Natural Trail, or Forest Trail. In addition to a swimming pool, tennis courts, pavilions and baseball and softball fields, Withrow Springs State Park includes 30 Class AAA campsites with power, water and sewer hookups, allowing the sites to accept either tent or RV campers. Nightly camping fees are $34. The park is located five miles north of Huntsville near Arkansas Highway 23. For more information, visit the park's website at: www.arkansasstateparks.com/withrowsprings
Lake Fort Smith State Park
18160 Shepherd Spring Road, Mountainburg

Another under-appreciated gem of the Arkansas State Parks system, Lake Fort Smith State Park near Mountainburg is a beautiful site set in the Boston Mountains, on one edge of the 1,400-acre Lake Fort Smith. No matter what you're hoping to get up to (other than swimming; Lake Ft. Smith is a drinking water reservoir, so swimming, tubing, jet skiing, skiing and other similar activities aren't allowed), there's something for you at Lake Fort Smith State Park, including a huge swimming pool, hiking, backpacking along the Ozark Highland National Recreation Trail, ten picturesque cabins, an 8,000 square foot visitor's center with exhibits on local history and geology, a theater, and year-round interpretive programs. We're here to talk about camping, though, and Lake Fort Smith features plenty of that: 30 capsites — 20 AAA with water, sewer and electrical hookups, and 10 Class B with only water and electrical — with nearby showers, dump stations, and restroom facilities. Nightly rates for tent or RV camping range from $22 to $34 per night. For more information, visit the Fort Smith State Park website at: www.arkansasstateparks.com/lakefortsmith

Time is finite, and you're never going to get back today's sunset! Once it's gone, it's gone. So get the camping stuff out of the garage, round up your family and friends — or just go solo — and get out there to a campsite at one of Northwest Arkansas's great state parks! And if you need a ride to help you find your way to campfires and nights under the stars, stop in at McLarty Daniel CDJRF of Springdale. We've got a huge selection, so we're sure to have something that fits your needs and your budget. Come see us today!

McLarty Daniel CDJRF is a new and used vehicle dealership in Springdale that is proud to serve the communities of Northwest Arkansas, including West Fork, Mountainburg, Rogers, Springdale, Bentonville, Lowell, Siloam Springs, Eureka Springs, Pea Ridge, Fayetteville, Eureka Springs and all points in between.