Northwest Arkansas's best places to off-road | McLarty Daniel CDJRF of Springdale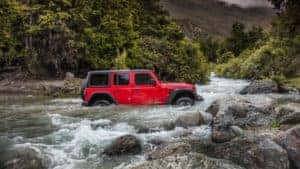 Winter or summer, spring or fall, the weather is always right to get out into the wilds of Arkansas and enjoy the Trail Rated off-road prowess of your new Jeep! For over 75 years, Jeep has made a name for itself as the ultimate off-pavement performer, and when you put that legendary capability together with the varied and sometimes rugged terrain of Northwest Arkansas, it's a match made in four-wheeling heaven. Read on below for just a few of the great places you can test the ability of that new Jeep Wrangler, Cherokee or Grand Cherokee you bought from McLarty Daniel Chrysler Dodge Jeep Ram Fiat in Springdale.
Click here to shop our full selection of Jeep vehicles

Wheelin' World Off Road and Campground
Eureka Springs, Arkansas

Located just five minutes from the great attractions, hospitality and food of Eureka Springs, Wheelin' World Off Road and Campground is open Friday through Sunday and features over 80 Jeep trails, with world class rock-crawling with difficulty from easy to insane, plus trails for ATVs and side-by-sides. For those who want to stay on-site, there's tent and RV camping with full hookups available. The day fee for a 4×4 of any class is $20, with weekend passes $35. ATV and Side-By-Side day passes are $15. Tent campsites are $15 per night, with full-hookup RV sites are $25. The park includes a large picnic pavilion, public restrooms and showers, a tool room, and a dedicated recovery vehicle that can come get you if your confidence is too big for your rig. Wheelin' World Off Road and Campground, 10 Mint Springs Ridge Road, Eureka Springs, AR.
Byrd's Adventure Center
Ozark, Arkansas

One of the crown jewels of Northwest Arkansas is the Mulberry River, and given that Byrd's Adventure Center is situated on the Mulberry, that makes it a must-see for outdoor fun enthusiasts of all kinds, with attractions for off-roaders, hikers, dirt and mountain bikers, campers, canoeists or just those looking for a leisurely walk in the splendor of Northwest Arkansas. Byrd's includes an on-site restaurant, and even a 2,500-foot airstrip for those who would rather fly in. For off-roaders, Byrd's features over 30 miles of Jeep and ATV trails spread over 800 acres, with difficulty ranging from their easy trails, to their "Red Trails" which will throw everything but the kitchen sink at drivers, and which shouldn't be attempted unless you're in a high-horsepower, full-cage rig. Byrd's is open year-round, and hosts huge events like the Ramsey Top Truck Champions Series, which draws several hundred 4x4s and spectators. The day rate for 4x4s is $20 per day, or $12 per day if you'll be camping at Byrd's. Byrd's Adventure Center, 7037 Cass Oark Road, Ozark, AR. (479)667-4066. www.byrdsadventurecenter.com

Rock Creek Racing and Recreation Off-Road Park
Booneville, Arkansas

A family-owned operation in the mountains near Booneville in Logan County, Rock Creek Racing and Recreation Off-Road Park features 880 acres of off-road fun, including a mud pit, steep terrain, and over 50 different rock-crawling trails, from easy trails that are well within the abilities of a stock Jeep, to insane inclines that require a full cage and racing harness to even attempt. Also found on site at Rock Creek Racing and Recreation is a motocross track, a dirt drag strip, public restrooms and campsites with water and electric hookups. Rock Creek Racing is only open for scheduled events, so be sure to give them a call or check their website before you head out. Rock Creek Racing and Recreation, 3228 Ferguson Valley Road, Booneville, AR. (501)844-6008. www.rcrrorp.com

Southern Missouri Off-Road Ranch (SMORR)
Seymour, Missouri

Another excellent off-road paradise within easy driving distance of Northwest Arkansas, the Southern Missouri Off-Road Ranch a few miles south of Seymour, MO is another excellent way to burn a weekend and a tank of gas in the beauty of the Ozarks. Situated a few miles from the small town of Seymour, SMORR features over 940 acres of stunning countryside, with trails ranging from the easy level 1 to "hardcore" trails that will test the abilities of even purpose-built rock crawlers. SMORR hosts big events all year, including the annual "JeepStock" and the yearly "Top of the Ozarks" Jeep Jamboree in June. Rates are $25 per day for one vehicle and driver, with passengers over 13 years old admitted for an additional $10 per day. Tent camping is available on site for $15. Southern Missouri Off-Road Ranch, 5722 State Hwy. K, Seymour, MO. (417)773-4084 www.SMORR.net
If this list has you wishing you had a new Jeep Wrangler to help you hit the trails for some weekend fun, McLarty Daniel Chrysler Dodge Jeep Ram Fiat in Springdale can help with that. We've got a huge selection of new 2018 Jeep Wranglers on the lot, so come on in for a test drive today, go through our easy financing process, and then get out there and try some trails in your new Jeep!

Click here to contact our dealership, or click here to fill out an application for financing.

McLarty Daniel CDJRF of Springdale is a new and used car dealership which is proud to serve the communities of Northwest Arkansas, including Fayetteville, Springdale, Rogers, Lowell, Bentonville, Siloam Springs, Berryville, Tontitown, Eureka Springs, Pea Ridge, and all points in between.