Mopars at the movies: five iconic Dodge and Plymouth cars from cinema! | McLarty Daniel CDJRF of Springdale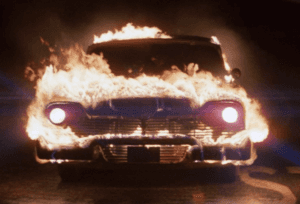 Since the early days of film, cars and movies have gone together like peanut butter and jelly. Given that cars made by Dodge have been part of the fabric of America almost as long as movies, it's understandable that a few Mopars have wound up starring alongside human actors and actresses in some of our favorite films.

Seen below are five iconic Dodge and Plymouth cars that played a starring role in some of cinema's greatest flicks. Check out our list, and if you have any of your own favorites, share them in the comments! And if you're looking for a new vehicle to take you to your own next star turn, stop in today at McLarty Daniel Chrysler Dodge Jeep Ram Fiat of Springdale, where our great selection, unbeatable deals and service after the sale will make you a customer for life!

"Vanishing Point" (1971)
1970 Dodge Challenger R/T 440 Magnum
One of the iconic fast-car movies of the 1970s, "Vanishing Point" revolves around former race car driver and Vietnam Vet Kowalski (Barry Newman), who bets an acquaintance that he can deliver a car from Denver, Colorado to San Francisco, a distance of over 1,200 miles, in under 16 hours. That car: a ten-new, white 1970 Dodge Challenger R/T 440 Magnum. From there, the film is a superfly 1970's fever dream in the desert that recalls some of the trippier moments of flicks like "Easy Rider," full of equal parts weirdness and horsepower as Kowalski, drugged out of his mind to help him stay awake, blasts across the desert toward California in the souped up Challenger with police in hot pursuit. Like a lot of 1970s films about anti-heroes, it doesn't end well for him, or for the beautiful white Challenger that is now one of the most iconic Mopars in film history. While "Vanishing Point" is not everybody's cup of tea, the film — and its explosive ending — has since become a classic.

"Christine" (1983)
1957 Plymouth Fury
Based on one of the early novels of horror master Stephen King and directed by horror film master John Carpenter, 1983's "Christine" starts with the most American of stories: a kid named Arnie (Keith Gordon) finds a junked-out car, buys it, and pours every dime and minute of his spare time into fixing it up. Little does he know at the start, the blood-red and white 1957 Plymouth Fury he buys happens to be both haunted and somehow alive, with the murderous autonomous vehicle bent on destroying everybody who stands between Christine and her new owner. Even weirder, Arnie's time with Christine begins to change the geeky, picked-on teenager into someone his friends and parents don't even recognize, with deadly results. In the end, Arnie's friends make a desperate play to save him from his four-wheeled bad girlfriend, with a metal-crunching demolition duel in a giant warehouse. Containing one of the most spectacular fire stunts in cinema history and a plot that's still unsettling today, "Christine" still stands up, and the classic 1957 Plymouth Fury coupe has since become an icon of unease because of it.

"The Blues Brothers" (1980)
1974 Dodge Monaco police interceptor sedan
While John Belushi and Dan Akroyd still rule as The Blues Brothers, America's favorite shiftless musicians "on a mission from God," the Bluesmobile — a 1974 Dodge Monaco Police Interceptor sedan bought by Elwood Blues at auction and still bearing its black and white livery (along with, famously, it's cop shock, cop motor, cop shocks, cop tires, etc) — almost steals the show in several scenes. That includes the Blues Brothers' run-in with a dastardly gang of Illinois Nazis, a slapstick police chase through an indoor shopping mall full of stores and customers, and an spectacular backflip maneuver Jake and Elwood use to evade the cops. While the 1974 Monaco doesn't look like much, it perfectly fits the goofy tone of what has become one of the most beloved comedies in film history.  

"Bullitt" (1968)
1968 Dodge Charger 440 R/T
The Highland Green 1968 Ford Mustang 390 GT piloted by Steve McQueen in 1968's "Bullitt" gets the majority of the glory when people talk about the iconic film, but it takes two to tango, and the McQueen's dance partner in the film's greatest car chase through the hills of San Fran is, in its way, just as impressive: a jet-black 1968 Dodge Charger R/T with a 440 cubic inch big block under the hood. The car, driven by two shotgun-wielding heavies gunning for McQueen's Detective Bullitt, is dealership perfect when the chase begins, right down to the mirror-slick body and hubcabs. Sadly, the Charger takes quite a beating over the ensuing 10 minutes of screentime, culminating in a fiery end when the big coupe careens into a gas station with explosive results. Though the muscle car carnage may make fans of the now-rare second generation Dodge Charger want to look away, the result was a truly incredible street showdown between two legendary  performance cars of the late 1960s.

"Duel" (1971)
1971 Plymouth Valiant De Luxe sedan
The debut film of director Steven Spielberg, 1971's "Duel" shows the young master already at work, playing with a lot of the themes and techniques he would later bring to instant classics like "Jaws" and "Close Encounters of the Third Kind." Starring Dennis Weaver as a salesman behind the wheel of a red 1971 Plymouth Valiant four-door as he heads across the desert toward an appointment in California, the film's plot starts simply enough, with Weaver's character overtaking a lumbering, grungy 1955 Peterbilt tanker truck on the highway. That routine act soon turns into the duel seen in the title, however, with the never-seen driver of the Peterbilt menacing Weaver's character at every turn and eventually becoming homicidal, with a 25-ton truck as his weapon. The result is a confrontation unlike anything ever seen on film, and a flick that ratchets up the suspense and anxiety like no other. If you're like most, it'll come to mind every time you pass an 18-wheeler on the highway.