Mopar Doors-Off Mirror Kit for Wrangler, Gladiator Debuts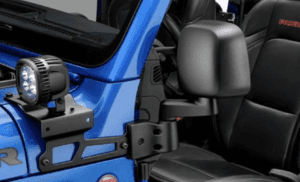 It is absolute fun mastering the Northwest Arkansas backroads in your Jeep Wrangler or Gladiator, feeling the rugged freedom of the Ozarks. Current Jeep Wrangler and Gladiator models are great for getting out and exploring the great outdoors, with the quick-remove doors and top. The one drawback is: when the doors come off your Jeep or Gladiator, the side-view mirrors on each door come off too. Luckily, Mopar recently introduced a solution for that: a Door-Off Mirror Kit (Part Number: 82215331AB; Price:$295.00) that installs in seconds and Jeep owners to continue to enjoy the rugged freedom in their Wrangler or Gladiator safely. 
THRILLING AND SAFE: With Mopar's new door-off mirror kit, you can remove the original, factory-installed front doors with attached mirrors and then easily install two separately mounted side mirrors for an enhanced rearview. With the new doors-off mirror kit, Jeep Wrangler and Gladiator owners will enjoy the sense of safety and improved range of vision during their romp off-roading. 
EASY INSTALLATION: Don't worry. You don't have to be a certified auto technician to install this particular mirror kit. Installation is simple with the use of a T40 bit wrench found in the standard tool kit equipped in each new Jeep Wrangler and Gladiator model. No special tools are required. Each mirror in the kit attaches to a cowl-end cap bolt and the upper door hinge. In addition, a custom thumb wheel-nut-clamp is used as an attachment point to the door flange, making the mirror rock solid and vibration-free. 
STURDY QUALITY: The Mopar door-off mirrors are of sturdy quality, specifically engineered with a built-in break-away feature to prevent damage while in tight spaces on- or off-road. Mounting brackets are finished with an anti-corrosion undercoat and durable black powder-coat finish. The door-off mirrors provide a production-equivalent field of view with minimal vibration. These mirrors are built to last! 
When new Mopar parts or accessories come available for our customers we at McLarty Daniel Chrysler Dodge Jeep Ram Fiat in Springdale, love to spread the word.  Owning a Jeep Wrangler or Gladiator only gets better with accessories as the door-off mirror kits make it safe while playing outdoors. McLarty Daniel CDJRF is more than happy to assist you with purchasing the Mopar parts and accessories for your Jeep. We make it easy to order, so click below to visit our Service and Parts Page on our website.