History of the Jeep pickup: Getting you Ready for the All-New 2020 Gladiator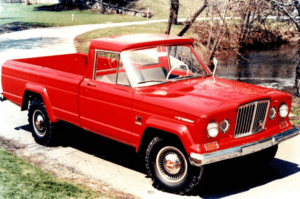 As Jeep re-enters the midsize pickup market, let's take a step back and look into the history of the Jeep Truck.
Jeep introduced the Willys Overland truck in 1947. Weighing in at one-ton, the truck sat on the classic Willys Jeep CJ-2A frame.
Creating a new model pickup in 1957, Jeep tried their hand again with the FC-150/170 pickup. These trucks were ready to handle whatever job owners threw at them, standing on an 81-inch wheelbase and 103.5-inch wheelbase for the FC-150/170 respectively.
It wasn't until the early 1960s that Jeep introduced their first take on the Gladiator. With a round, rhinoceros grill, the 1963 Jeep Gladiator's iconic look quickly cemented its place in car enthusiasts' hearts. The vehicle practically embodied what it means to be 'tough.' Enthusiasts didn't know much about the truck, other than the fact that it performed just as well the Willys Jeep. Suddenly, the Jeep pickup could go anywhere and do anything.
Available as a pickup, stake bed, cab or chassis model, the Jeep Gladiator remained in production until 1965. Jeep kick-started production again in 1981 with the Scrambler, known internationally as the CJ-8 pickup. Available with soft and hard tops, this pickup blended everything Jeep enthusiasts loved about the CJ-7 with everything a modern pickup demanded.
Bearing a striking resemblance to the Jeep Cherokee, the Jeep Comanche exploded onto the production line in 1986 and ran until 1992. A six-foot bed hit production lines later in its run, along with options like the Selec-Trac and Command-Trac four-wheel-drive as other Jeep models began utilizing them.
The all-new 2020 Jeep Gladiator is a showstopper. Steeped in rich heritage, the Jeep pickup is finally back and better than ever. With the latest in technology, performance and capability, the 2020 Gladiator is suited to finish any job you start– no matter the difficulty.
We're finally getting the 2020 Jeep Gladiator here at McLarty Daniels Chrysler Dodge Jeep Ram in Bentonville and we couldn't be more excited about it! We'd love to have you stop by for a test drive or fill out our contact form for more information on the Gladiator.