Great Lakes To Visit In Arkansas This Summer!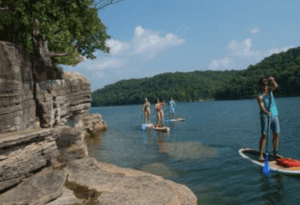 Arkansas is a beautiful state to live in and we are proud to be residents of the Natural State. Part of that beauty is that Arkansas is home to many lakes and reservoirs, many of which offer great recreational activities. There are at least 2,340 lakes and reservoirs throughout this gorgeous state. Seen below, check out this list of some of our favorite Arkansas lakes to visit, especially on a hot summer day. So break out your swimsuit, pack up the kids and your favorite snacks, and make a day at one of the lakes that make Arkansas an exquisite place to live, work and play. 
BEAVER LAKE, ROGERS, AR
Close to home is the gorgeous Beaver Lake located across both Benton and Carroll Counties. This 28,000-acre man-made reservoir sits right in the Ozark Mountains along the White River. It is picturesque, with a stunning shoreline made up of towering cliffs and caves, covered in various species of trees. Beaver Lake is a popular tourist destination, not only for its beauty but also for its recreational activities. There are 12 parks around its 487 miles of shoreline where visitors can go camping, swimming, fishing, and picnicking. Beaver Lake also is a source of drinking water for Northwest Arkansas. 
LAKE DARDANELLE, RUSSELLVILLE, AR
Further south is Lake Dardanelle, a 34,300-acre reservoir on the Arkansas River that stretches through five counties in the western part of Arkansas. It is home to Lake Dardanelle State Park that sits on both sides of the lake in both Russellville and Dardanelle. The park provides visitors with picnic areas, pavilions, boat ramps, and playgrounds. In addition to parks, there is an abundance of forests surrounding the lake and plenty of camping grounds to have fun with the family.
LAKE OUACHITA, MOUNTAIN PINE, AR
Arkansas' largest lake, Lake Ouachita is 40,000 acres of clean, freshwater nestled in the scenic Ouachita National Park. There is a load of fun things to do at Lake Ouachita, from scuba diving to kayaking. You'll never run out of places to swim with the numerous beaches, open waters, and quiet coves. One activity you will never get tired of is the great fishing. Bream, crappie, catfish, and striped bass can be caught out of Lake Ouachita. Around the lake, there are plenty of day-use areas and overnight accommodation with more than 90 campsites.
Arkansas has much to offer for family summer fun, this is just a very small list of beautiful destinations to visit in our Natural state. If you want to start your family's summer vacation in a quality vehicle, contact your friends at McLarty Daniel Chrysler Dodge Jeep Ram in Springdale. Let us assist you in getting your summer started off right. Have a fun summer and we hope to see you soon!