Fiat and Hoonigan team up to search for the Next Great Driver. Deadline August 10! | McLarty Daniel CDJRF of Springdale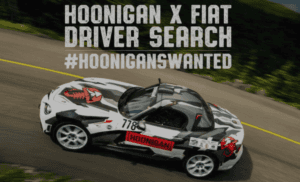 Fiat Chrysler America recently announced that Fiat will be teaming up with the racing-focused content producers Hoonigan Media to crown America's Next Great Driver, with the winner appearing as a co-host in Hoonigan Youtube videos and being awarded a race-ready Fiat 124 Spider Abarth (like the one seen above) that has been customized on-air by the Hoonigan team. The winner will be announced in September, but if you want to apply, you have to hurry! The submission deadline for video entries is August 10!
Click here to shop our full selection of Fiat cars online
Based in Los Angeles, Hoonigan Media, online at hoonigan.com, is a producer of content that is almost entirely focused on performance cars. The Hoonigan Youtube channel, which currently has over 1.8 million subscribers, features the Hoonigan team wrenching on and flogging purpose-built race and street performance cars that span the entire spectrum of the automotive hobby, from dune buggies to racing go-karts to 1,200 horsepower diesel drag trucks. Their videos are often jaw-droppingly cool, such as this video from 2014 featuring drift and rallycar racer Ken Block ripping up the streets of LA in a 845 hp, all-wheel-drive 1965 Mustang dubbed the Hoonicorn. 
Hoonigan successfully teamed up with Fiat last year to crown the Next Great Female Racer, with Sara Price from Canyon Lake, Calif. besting 150 other female contestants for the title. As part of the experience, she went on to compete in the Mt. Washington Hillclimb in New Hampshire, piloting a factory built Fiat 124 Spider Abarth Rally race car.
Video submissions for this year's contest, in which potential contestants of both genders spend a maximum of 60 seconds explaining why they should be selected as the Next Great Driver, will be uploaded to Youtube with the hashtag #hooniganswanted in the video title. Potential contestants must also fill out a form at the website hooniganswanted.com, which includes full details on the contest and rules. From the entries submitted, ten contestants will be chosen.
When the competition starts, the contestants will be divided into teams by celebrity drivers, including legendary off-road, drifting and rally-car driver Rhys Millen. Over the course of five episodes that will be shown on the Hoonigan and Fiat social and digital media channels, the contestants will participate in a number of driving challenges behind the wheel of several different Fiat performance models, including the Fiat 500 Abarth, the Fiat 124 Spider Abarth, and a factory-built Fiat 134 Abarth rally car. Contestants will be scored on driving skill, teamwork, pit duty, stunt driving, time-attack trials and other metrics.
The Hoonigan-modified Fiat 124 Spider Abarth racecar that will serve as the grand prize for this year's challenge is currently being modified with cameras rolling at the Hoonigan shop. You can watch the build process right now on the Hoonigans YouTube Channel.