FIAT adds Scorpion Sting Graphics to 124 Spider Abarth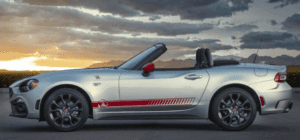 FIAT is celebrating two major milestones this year: the 70th anniversary of the Abarth and the 120th anniversary of the company. All these achievements call for a little celebration and that's where the Scorpion Sting appearance group comes in. 
Trick out your FIAT 124 Roadster with an aggressive and iconic Abarth scorpion hood decal and side stripes bathed in Rosso red. Rosso red accents nicely against the FIAT 124's monochromatic paint jobs, creating one gorgeous roadster.  Karl Abarth, one of Fiat's most iconic racing drivers, bore the astrological sign Scorpio, hence the rise of the scorpion. The Scorpion Sting package screams power and performance and you'll know just what we're talking about when you hope behind the wheel.  
The FIAT 124 Roadster sports a robust four-cylinder turbocharged engine, perfect for an afternoon joyride or a weekend trip to your favorite scenery. They'll know that you mean business when they see the sporty roadster flying down the road, emblazoned with the legendary scorpion. Responsive driving means that you're making the most of the Abarth's 164 horsepower and performance-driven design. 
Huge fan of roadsters? Who could blame you? The FIAT 124 Spider is the most affordable roadster in its class and will always bring a smile to your face when you hop behind the wheel. 
Here at McLarty Daniel Chrysler Dodge Jeep Ram FIAT in Springdale, we're committed to bringing you the best FIAT selection in the state! We'd love to help you take a test drive in one of the FIAT 124 Spiders on our lot. You can fill out our contact form, give us a call, or come by for a visit and we'll help you experience the FIAT difference. Fear the scorpion's sting! Get behind the wheel of a FIAT 124 Spider Abarth today!