Fiat 500 displayed as an icon of 'Good Design' at NYC's Museum of Modern Art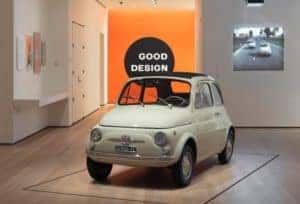 For over 120 years, Fiat has been an icon of automotive engineering, with the simple, subcompact Fiat 500 celebrated as one of the most reliable car designs of all time. Now, the Fiat 500 is being celebrated as more than a way to get from Point A to Point B, with a display at New York City's Museum of Modern Art. There, a restored Fiat 500 coupe is being showcased in the MoMA's exhibition, "The Value of Good Design." The exhibit runs until June 15.

Along with a vintage Fiat 500, dozens of other products considered to exude groundbreaking industrial design are included in the exhibit, including an East German Werra camera, a Japanese Mitsubishi sewing machine, chairs by groundbreaking designer Eames and a Chemex coffee maker.

The Fiat 500 on display at the MoMA for the exhibit is a Series F model. One of the most recognizable car designs in the world, the Series F was manufactured between 1965 and 1972, and served as the inspiration of the retro-styled 2019 Fiat 500. More than 4 million Fiat 500s rolled off the assembly lines between the model's introduction in 1957 and the discontinuation of the original design in 1975. Since the all-new, heritage-inspired Fiat 500 was reintroduced in 2007, more than six million of the "new 500" have been sold, making it one of the best selling cars of all time.
Created by Fiat designer Dante Giacosa in 1957, the first generation Fiat 500 was originally developed as an affordable, high-quality, easy-to-build design built for narrow European streets at a time when the continent was still reeling from the effects of World War II. While the car was small on the outside, Giacosa's clever design maximized interior space — a quality that's evident today in the surprisingly roomy 2019 Fiat 500.

Every original Fiat 500 featured a standard folding cloth cabriolet top which rolled back while leaving the door and rear window frames in place. At the time, Fiat added the soft top to save a few square feet of precious and then-expensive sheet metal, but the feature has since become a beloved hallmark of the early Fiat 500s. It is retained in the 2019 Fiat 500 in the form of the optional cabriolet cloth top.

Are you ready to get behind the wheel of an icon of European style? Are you ready to buy a 2019 Fiat 500 in Fayetteville, Rogers, Bentonville or Springdale? Then you need to come see us at McLarty Daniel Chrysler Dodge Jeep Ram Fiat of Springdale, Northwest Arkansas's ONLY Fiat dealership! Stop in today for a test drive of the beautiful 2019 Fiat 500, 500L, 500X or 124 Spider roadster, or you can check out our full selection online right now!