Employee Profile: Sales Team Member Jonathan Kitchen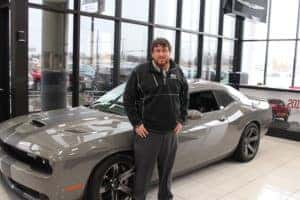 Ask any of our sales professionals here at McLarty Daniel Chrysler Dodge Jeep Ram Fiat of Springdale how they got into the car business, and you'll hear every kind of story imaginable, from "started detailing cars and worked my way up" to "just needed a career change." Few, however, have a "How I Got Started Selling Cars" story like McLarty Daniel CDJRF Sales Team member Jonathan Kitchen. Unlike most, Kitchen was actually "discovered."

The story begins when Kitchen was just a kid, growing up in the small town of Altus, Oklahoma. Without much to do there, Kitchen and his best friend started hanging out at the local bowling alley, which — in addition to the lanes — had a pool table.

"Me and my best friend, we were always competitive in everything we did," Kitchen said. "Anything we did, we were competitive. We had summer jobs, and we spent all our money in quarters for the pool table."

Though they weren't very good in the beginning, Kitchen and his friend kept at it, winning and losing to each other over the course of months. "We went back and forth," he said. "He'd beat me, and I'd beat him. He'd get me mad and I'd get him mad. Before we knew it, we got really, really good at the game even though we had no idea what we were doing."  

Before long, Kitchen and his friend were the best pool players in town. When he was old enough, Kitchen started hanging out at a local bar, shooting pool for money. Then, eight years ago, a group of clearly out-of-town guys walked into the bar.
"My whole idea when I saw these guys walk in was to probably hustle them and make some money," Kitchen said. "They were well dressed guys and kinda outta place for a small town. They were telling me what they did. I didn't understand it very much."

Turns out, the out-of-towners Kitchen played pool with that night were part of a group who went around to small-town dealerships, including one in Altus, and found ways to make those dealerships more profitable. After a few hours of fun, some money changed hands and Kitchen walked out a bit richer. He'd mostly forgotten about that night a few months later, when his phone rang.

"It's a guy from Southwest Missouri," Kitchen said. "I couldn't even remember who the guy was, but he said: 'Hey we met in a small bar back months ago, and I finally got your phone number. I want to offer you a job selling cars." Kitchen, the man explained, had all the right stuff to be a great salesman if he wanted it: humor, fun, personality, a sense of competition and drive. Convinced, Kitchen put his plans of becoming a professional pool player on hold and signed on.

"Eight years later," he said, "here I am."

Since getting into selling cars, Kitchen has worked all over, selling every brand other than high-end luxury cars, from tiny dealerships in the middle of nowhere to vast dealerships with hundreds of cars. For the past year and a half, he's been with McLarty Daniel CDJRF of Springdale where, as he put it: "I help put dreams in driveways."  
Kitchen said the job has absolutely lived up to all his expectations, allowing him to network and form friendships with people who he would have never gotten the chance to know otherwise. Now living in Springdale, he likes spending time with his girlfriend and his pets: two dogs and two cats. He also still finds time to regularly shoot pool, keeping his skills up to snuff.

The best part of working at McLarty Daniel CDJRF, he said, is that it's something different every day. Too, he said, there's just something about helping people find the vehicle that's just right for them.

"Paperwork and stuff like that is, of course, repetitive," he said. "But being able to get to a place where you can sell someone a car and allow them to leave happy in a vehicle, there's a certain high you get off that. That's priceless to me. I love that." He said he loves building trust with customers who might have started out apprehensive about buying a vehicle. Even better, he said, is when customers trust him enough to refer him to their family and friends.

"When you start seeing friends and family come in from referrals by the people whose trust you've earned, that's big," he said. "That's so important to me."