Employee Profile: Collision Center Manager Steven Castleman | McLarty Daniel CDJRF of Springdale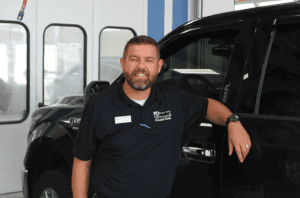 Though he's still a fairly young man, Steven Castleman has been in the body shop business for a long, long time. The collision center manager at McLarty Daniel CDJRF of Springdale since 2013, Castleman started working summers in a body shop when he was only 14 years old, before he could even legally drive.

"My brother-in-law, his dad owned a body shop here in Springdale," he said. "I started there as a teenager, after school and in the summertime. Mowing the grass, taping off cars, dumping the trash, mixing paint and stuff like that." Though it was hot, sweaty, dirty work, he stuck with it, and now he can't imagine doing anything else.

The collision center at McLarty Daniel CDJRF is a full service body shop, able to do anything from fixing minor scratches to full frame replacements and everything in between. The body shop works on all makes and models, has relationships with all insurance companies and dozens of local insurance agents and adjusters, and is on the direct repair program for multiple insurance providers. Though Castleman often meets customers at a low point, after their car has been damaged, the variety of the work makes the job something different every day.
Click here to shop our selection of new cars, trucks, SUVs and vans
"When we deal with a customer, it's at a bad time," he said. "We've just got to try and show them that it's going to be okay. We can always fix their car. We don't always get to see the same customers over and over, so we've got to make a good first impression the first time…. With me, I've been in the industry a long time here in Springdale, so I know all the adjusters and the agents. I get a lot of work because of that. They'll have an upset customer or a tricky customer, and they'll send them to me because they know they're going to get taken care of. They know they're not going to have to worry about it. That means a lot to me. I've worked a long time in this market area just to try to keep a good name and a good reputation, not only for myself but the team I have with me."

Castleman said his carefully-selected team of 20 employees is another part of what makes coming to work enjoyable for him. One thing he tells them often is that the customer is the ultimate boss, and they should help each other any time they see an opportunity. Even though he's the collision center manager, Castleman's belief in sharing the workload means he can often be found out on the collision center floor doing even the most menial tasks, from taping off cars to buffing out paint. He usually pitches in when and where he can, he said. It's a quality he encourages in his team.

"It's taken a long time to build up my team," he said. "I've got a good bunch of employees, from the estimators to painters to the body men. They're guys who have been in the business a long time, so I help them with their job and they teach me stuff every day. I enjoy that. I think that's more rewarding to me: getting to come here and actually enjoy what you do with the people you work with. The time that we spend together, that's important to me."

Having been in the body shop business for over two decades now, Castleman said he's seen plenty of changes over the years, especially as automakers have gone to lightweight alloys, high strength steels and composite materials in body panels and suspension components. That requires his team to be constantly training. With the McLarty Daniel family of dealerships in Northwest Arkansas having expanded to include more brands, his team is currently working to broaden their portfolio of certifications with I-CAR (the Inter-Industry Conference on Auto Collision Repair), an international, not-for-profit organization that certifies collision centers.

"We have to try to keep up with the technology not only with the manufacturer recommendations, but also our gold standard, which is I-CAR," he said. "I-CAR sets the standard for collision repair. Obviously, it piggybacks off what the manufacturer recommends, but that's kind of the go-to. We go off of what they say. We're also in the process of being certified through I-CAR now that we've got some new brands since McLarty Daniel bought this dealership. We picked up Ford, Nissan and some other brands, so we have to get certifications in those car lines too so we can be manufacturer recommended."

When a customer buys a new car, they have the manufacturer's assurance that every bolt, nut and part has been installed correctly and double checked. After a collision repair, however — a process that can mean taking a vehicle apart down to the frame — all the responsibility for the customer's safety rests squarely on the shoulders of Castleman and his team. It's a level of trust that Castleman respects, and which makes him hold himself and every member of his team to a higher standard.

"It's a lot to take in, but we check everything," he said. "We test drive. We do everything we can on the front end. Obviously, in collision, there can be multiple things from the accident that you just can't see, so we always try to let the customer know: if you have any questions or concerns, don't hesitate to call us. We try to do the best we can on the front side, but you know your car better than we do. We always try to take care of that and make sure they understand that we're not just 'one and done.' If you need anything from this point forward, we're here to help."

Castleman said that there are plenty of benefits to having a collision center, service center and car dealership under one roof at McLarty Daniel CDJRF. If a customer buys a car and later has an accident, they can bring it back to the same dealership where they purchased their car, and work with the people they already trust. If he needs parts or technical expertise during a repair, he can walk fifty feet to the service center or parts counter and ask his colleagues for assistance. "If I need something from them, it's nice to have them here," he said. "Having a good relationship with the service department and the sales department is key to what I do."

In the end, it's the friendships and trust he's forged with the collision center team that keeps Castleman excited about coming to work. There's a kind of art, he said, in seeing his team tackle a vehicle that might seem damaged beyond repair and later return it to the customer looking and driving as good as new. For him, that never gets old. Though he could clearly take his know-how and considerable expertise anywhere, he plans on staying with McLarty Daniel long term.

"For me, this is my home," he said. "Springdale and Northwest Arkansas, this is it for me. It's the people. It's the employees. It's all my technicians. It's home. I enjoy coming to work because of that. It's kind of weird to say that, but when you work with people for so long, and you know you can trust them and they can trust you, it just makes your job a little bit easier."
Click here to visit our service center, or click here to fill out an application for financing