Dodge releases details on 2019 Scat Pack, Hellcat Chargers | McLarty Daniel CDJRF of Springdale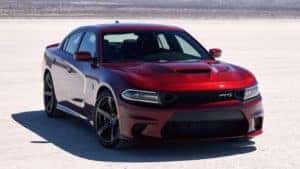 Though the legendary Dodge performance division went through some lean years in the 1980s and '90s, they have definitely got their Mopar Mojo back since the mid-2000s, fielding incredible cars like the Challenger and Charger SRT and Hellcat models, and the 2018 Challenger Demon, which — with 840 hp on tap plus advanced launch control — could do cool tricks like doing wheel standing dragstrip launches from the factory.

While the limited-edition 2018 Challenger Demon has growled off into the fiery sunset, that doesn't mean Dodge is going to pack up their toys and quit! Announced just this week are their high-performance plans for the 2019 Dodge Charger, including the details on the new 2019 R/T Scat Pack and SRT Hellcat Chargers. Read on for more details of these amazing new sedans, scheduled to arrive in dealerships this fall.
Click here to shop our selection of 2018 Dodge Charger models
2019 Charger R/T Scat Pack: The most affordable of the two high-horsepower Chargers announced recently, the 2019 Charger R/T Scat Pack is priced under $40,000, but is a considerable amount of performance bang for your buck. Under the hood is a naturally-aspirated 392 cubic inch Hemi V8 pumping out 485 hp and 475 lb.-ft. of torque, backed by a beefed up Torqueflite 8-speed automatic. New on the Scat Pack Charger for 2019 is a standard Line Lock, which locks the front brakes while allowing the rear tires to spin freely, making for massive burnouts… at the dragstrip. Yeah. That's the ticket. Also new is launch assist. Operated through a switch on the dash, the system optimizes the engine, transmission, drivetrain and suspension for perfect standing-stop launches at the dragstrip, for lower quarter-mile times and less wheel spin on takeoff. Visually, the 2019 Charger R/T Scat Pack gets a new performance grille with dual, fully-functional air ducts in the grille, while at the rear, there's a retro Scat Pack Bee emblem. Also available are dual stripes, a satin black contrasting hood with a center scoop and twin ducts, and Bilstein three-mode active damping suspension.
2019 Charger RT Hellcat: In this world full of incredible performance cars, saying that something is the quickest, fastest and most powerful four-door sedan on the planet is a bold statement, but one which the amazing 2019 Dodge Charger Hellcat can back up with hard numbers. Putting their muscle where their mouth is, under the hood is the same awesome 6.2-liter supercharged Hemi V8 from the 2018 Challenger Hellcat and 2018 Jeep Grand Cherokee Trackhawk, delivering a staggering 707 horsepower and 650 lb.-ft. of torque. Backed by a speed-shifting Torqueflite 8-speed automatic with available steering-wheel mounted paddle shifters, the engine is chock full of crazy performance tech, including a system — shared with the awesome 2019 Challenger Hellcat Redeye — which diverts coolant from the air conditioning to chill air on its way to the supercharger, boosting horsepower. The 2019 Charger Hellcat also takes advantage of an After-Run Chiller, which keeps cooling the supercharger even after the engine is turned off, making sure the engine is constantly at optimal operating temperature. Another trick feature of the 2019 Dodge Charger Hellcat is Torque Reserve, which contributes to brutal drag strip launches by closing a bypass valve to pre-fill the supercharger with boost, then automatically tinkers with fuel delivery and spark timing to help the engine rev higher, building even more boost until it's time to smash the go-go-pedal.  Like the Scat Pack Charger, the 2019 Hellcat Charger also benefits from the new dual snorkel grille, feeding fresh, cool air directly to the intake.
For anyone who ever lamented not being around for the muscle car wars of the 1960s, these are great times to be alive, with factory hot rods from Dodge laying down horsepower, torque and quarter mile numbers that the original crop of Mopar muscle from the good ol' days could only dream about. If you'd like to buy a Dodge Charger Hellcat in Springdale, Arkansas, stop in today and see us at McLarty Daniel CDJRF! We've got a big selection of Dodge Chargers on the lot and ready to roll, and when the 2019 Charger Scat Pack and Hellcat cars are released this fall, we'll have those too. Stop in today to see how you can be the first kid on your block to get the keys to one of these amazing muscle cars from Dodge!
Click here to contact our dealership, or click here to visit our finance department.