Cool Accessories for the 2018 Jeep Wrangler JK from Quadratec! | McLarty Daniel CDJRF of Springdale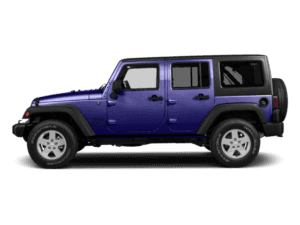 One of the best things about owning a Jeep Wrangler JK is that over the dozen years the JK series has been around, aftermarket companies have come up with literally thousands of parts to customize the Wrangler JK and make them more attractive, unique, reliable, capable and/or bombproof. Mopar Performance, for instance, has a ton of great parts for the Wrangler JK, all designed to fit right and look great. Our other go-to when it's time to drool over the most B.A. Jeep Wrangler JK accessories, though, is Quadratec, online at quadratec.com. They have hundreds of quality aftermarket parts for the Jeep Wrangler JK, from winches to roll bars to body armor to full replacement hardtops. If you've got a Wrangler, it's a great place to browse. If you DON'T have a Wrangler, stop in today at McLarty Chrysler Dodge Jeep Ram Fiat in Springdale, where we have the 2018 Jeep Wrangler JK in all colors and trim packages! It's the last year of the JK series after a 12-year run, and we've got to move them out to make room for the all-new Jeep Wrangler JL's. If you want to get in on some Jeep fun, come see us, or shop our selection of Jeep Wranglers online right now. Also: read on, for very cool parts available from Quadratec!
Click here to shop our selection of 2018 Jeep Wrangler JK models
Smittybilt Overlander Tent
Price: $889.99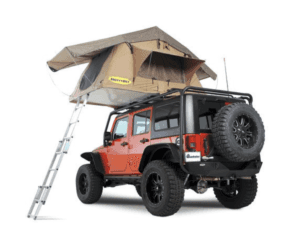 If you're one of the lucky few who had a treehouse as a kid, remember how cool it was to hang out in there? Looking down on the world, having your own space, asking anybody who wanted the rope ladder lowered down for the double-secret password? Having a kind of rolling treehouse — and keeping pesky critters from joining you in your tent at night out on the trail — is a big part of the charm of the Smittybilt Overlander Tent. Made of rip-stop polyester, the tent mounts to the top of your Wrangler JK, attaching to Smittybilt's SRC Overhead Rack (sold separately), with a fold-and-go design that stows in place on top of your Wrangler. The tent includes a high-density foam mattress, a telescoping ladder, and a built in aluminum light strip. For lifted Wranglers, a ladder extension (seen in the image above) is available.
Quadratec Door Storage Hangers
Price $129.99′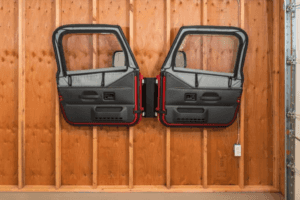 Knowing that people love the flexibility of their Jeeps, the engineers behind the 2018 Jeep Wrangler JK made pulling off the doors ridiculously easy. Two bolts, unplug some wiring and remove the check strap, and they lift right off. Once you've got the doors removed, though, you're left with one big question: What do you do with two or four big, bulky rectanglish items covered in fragile paint and made of dentable sheet metal, breakable plastic and shatterable glass? You could lean them up against the wall, but that's just inviting disaster. For those who won't make that invitation, Quadratec offers an easy answer, with their wall-mounted door hangers. The powder coated steel hanger plate mounts securely to wall studs, and holds one pair of doors with their painted side facing the wall for added protection. Just drop your door's stock hinge pins into sturdy steel barrel sockets just like those on your Jeep's door frame, and you're good to go. Note: if you have a four-door Wrangler, you'll need to buy two hangers.
Deluxe Heavy Duty Hardtop Storage Cart
Price: $219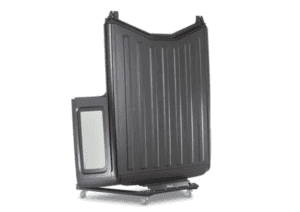 Like they do with the doors, Jeep engineering makes pulling the hardtop off your Jeep Wrangler JK easy as pie. Once you've got it off and the bolts stored someplace, though, what the heck do you do with that top, with its square yards of fragile safety glass, just waiting to be smashed? If you have a garage, hallway, spare bedroom or enclosed patio with a smooth floor, Quadratec has you covered with their Deluxe Heavy Duty Hardtop Storage Cart. Made of thick, padded wood and powder coated steel, the cart is designed to fit your Wrangler JK four-door's top perfectly and hold it securely in a vertical position to save space. Need to move it? Heavy duty locking casters allow you to roll the cart around easily on any smooth surface.

Rampage Products Trail Can Utility Tool Box
Price: $89.99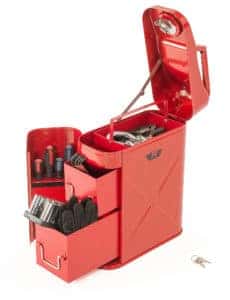 Part of the challenge of taking your Keep Wrangler JK waaaay off road is: you've got to bring everything with you that you might need for camping, food, basic hygiene and/or to repair your Jeep if something goes wrong. Space is always a premium in a situation like that, so you might not have room for a big, bulky, completely necessary toolbox. Knowing that — and knowing nothing looks better than the classic look of a steel jerry can mounted to the back of a Jeep Wrangler — Rampage Products produced their new Trail Can Utility Tool Box. Made of heavy duty black or red powder coated steel, the can features a locking lid, and looks just like a standard old-school gas can until it flips open to reveal a lift-out tool tray, two removable drawers, screwdriver slots, and more. Paired with Rampage's matching trail-can mount that can be securely bolted pretty much anywhere on your Wrangler, it's a smart and practical solution to the age old problem of finding space.

There's four very cool accessories that you didn't even know you needed for your Jeep Wrangler JK! That's just a drop in the bucket of the hundreds of JK accessories and parts Quadratec sells. If you've got a Jeep, be sure to check out their website for items big and small, cheap and expensive, that will make your Wrangler JK cooler, more capable, and more fun. If you are looking to buy a 2018 Jeep Wrangler JK in Fayettville, come see us at McLarty Daniel CDJRF in Springdale. There's deals to be had on both the last year of the Wrangler JK series, and the first year of the incredible, all-new 2018 Jeep Wrangler JL. Visit us today for a test drive, put the keys to a new Wrangler in your pocket, and then hit up Quadratec to make your JK cooler than the average bear.

Click here to contact McLarty Daniel CDJRF of Springdale, or click here to fill out an application for financing.