Apollo 11 Splashdown Celebration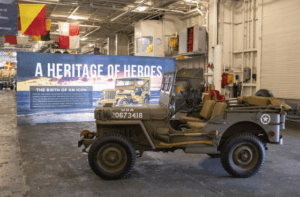 To celebrate the 50th Anniversary of the Apollo 11  Splashdown, Jeep invited a handful of lucky customers to the USS Hornet, in Alameda, California, to test out the 2020 Jeep Gladiator and 2019 Wrangler on a custom-built obstacle course. This event comes just a week after the 50th Anniversary of Apollo 11's splashdown upon re-entering Earth's atmosphere. The USS Hornet was there to retrieve the crew of Apollo 11 from the Pacifica Ocean back in 1969 and performed the same service for the crew of Apollo 12. The USS Hornet also participated in the three most important WWII battles in the Pacific theater.
Jeep has seen plenty of action on the military front, providing American armed forces with the 1944 Willys MB and 1951 M38 Navy Jeep, both of which were available for viewing on the USS Hornet. The USS Hornet Sea, Air and Space Museum also had Jeep concept cars like the Jeep JK 75th Salute, JK Staff Car, JK Sarge J8, T1, JK Crew Chief and JK JT available for consumers to view on the historic vessel's deck.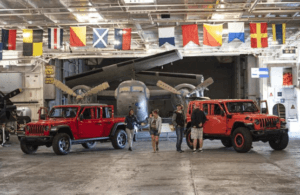 The custom-built obstacle course was designed to highlight Jeep's long history of performance. Features that tested the 2020 Gladiator and 2019 Wrangler's traction, capability, body strength, agility and were implemented in the course. The 2019 Wrangler was named MotorTrend's SUV of the Year and the 2020 Gladiator is Jeep's return to the mid-size pickup market. 
We love seeing Jeep honor our veterans and support America's armed forces. Here at McLarty Daniel Chrysler Dodge Jeep Ram FIAT of Springdale, we can personally attest to Jeep's claims of top-of-the-line traction, capability, body strength, agility and performance. Interested in the wildly powerful 2020 Gladiator or a 2019 'SUV of the Year' Jeep Wrangler? We're dedicated to bringing you the best selection of Jeeps and would love to help you get behind the wheel of a Gladiator or Wrangler today! Give us a call, fill out our contact form or use the map on the right to find directions and pay us a visit in person. We hope to earn your business here at McLarty Daniel Chrysler Dodge Jeep Ram FIAT of Springdale!