7 ways the 2019 Chrysler Pacifica makes holiday travel safer, easier and more fun! | McLarty Daniel CDJRF of Springdale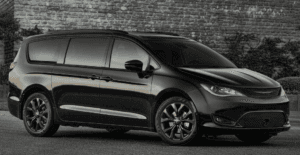 The holidays are here, and for a lot of us, that means holiday travel with family. While just the thought of traveling on crowded highways with kids in the back can bring on a bout of anxiety, it doesn't have to be that way when you're driving the 2019 Chrysler Pacifica! Loaded with innovative features and high-tech safety, the 2019 Chrysler Pacifica is the minivan designed by parents, for parents — which means it's also designed to take the worry and hassle out of going over the river and through the woods to grandma's house.

Read on for seven great ways the 2019 Chrysler Pacifica can make your Turkey Day travel more of a joyous time with family and less of a worrisome chore. And if you're looking treat somebody on your list who has been very, very good (including yourself) come see us at McLarty Daniel Chrysler Dodge Jeep Ram Fiat of Springdale. We've got an outstanding selection of cars, trucks, SUVs, and vans, including the 2019 Chrysler Pacifica. So stop in today for a test drive, or check out our big selection online right now!

1) Room for up to eight in comfort: Family time is precious, and time with the extended family is extra precious. Headed to Thanksgiving or Christmas dinner? Feel free to bring along grandma and grandpa, aunts and uncles, or a passel of cousins! The 2019 Chrysler Pacifica can seat up to eight adults in comfort and safety, with 243 possible seating configurations.
2) Stow n' Go Seating: Thinking of buying cousin Jane that new kayak she's been dying for? Go ahead and treat her, even if you've got miles to go! With the 2019 Chrysler Pacifica's exclusive Stow N' Go seating, the rear seats easily drop into clever pockets in the floor, leaving a flat rear cargo area while still allowing some passenger seats to stay in the locked and upright position.
3) Uconnect Theater: The trick to travelling long distances with kids is keeping them entertained. That's a cinch in the 2019 Chrysler Pacifica, thanks to the available Uconnect Theater system. The best family entertainment system in its class, Uconnect Theater feature dual 10-inch high-def touchscreens with a Blu-ray player, HDMI inputs to hook up a gaming system, wireless headphones, Bluetooth remotes and downloadable games and apps.
4) Full-Speed Collision Warning With Active Braking: Nobody likes to think about an accident on the highway during the holidays, but with kids in the back, even good drivers can and do lose their concentration on the road. On highways congested with holiday travel, that moment of inattention can mean disaster. Luckily, the 2019 Chrysler Pacifica has your back with Full-Speed Forward Collision Warning with Active Braking. The system constantly monitors the vehicle ahead, sounding an alert if the driver in front of you stops short, and can even apply the brakes automatically to help you avoid a collision.
5) Premium Audio by Harman Kardon: Holiday travel and holiday music go together like turkey and cranberry sauce, and from "Rudolph the Red Nosed Reindeer" to "Let it Snow," you'll enjoy concert quality sound from the 2019 Chrysler Pacifica's available premium audio system by Harman Kardon. Featuring 20 high-end speakers custom tuned to the acoustics of the Pacifica's interior, it'll have you feeling the spirit of the season in no time.
6) Stow N' Vac: From Christmas tree needles to spilled reindeer chow to wayward glitter, holiday travel can be messy! Save yourself some hassle with the 2019 Chrysler Pacifica's available Stow N' Vac. A powerful, onboard vacuum cleaner with internals designed by Rigid — the same company that supplies industrial-grade vacuums and other power tools to retailers like Home Depot — Stow N' Vac features a retractable hose that can reach every part of the Pacifica's interior, with powerful suction and easy, mess-free emptying of the canister-type collection bin.
7) Up to 82 miles per gallon from the Pacifica Hybrid!: The holidays always stretch the budget, and every dollar you don't have to put in the tank is a buck you have to spend on gifts, food and merriment. So save yourself some holiday fun money with the 2019 Chrysler Pacifica Hybrid, the industry's first gas/electric hybrid minivan! With fuel economy of up to 82 miles per gallon and a range of 488 miles on a single tank of gas, it's a smart money move, and can even go 32 miles on battery power alone. Save even more by applying for a $7,500 federal tax credit!