2019 Ram 1500's 3.6-Liter V6 named to Wards 10 Best Engines of 2019 list! | McLarty Daniel CDJRF of Springdale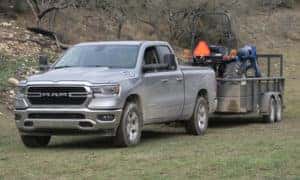 The influential automotive publication WardsAuto has already shown their love for the all-new 2019 Ram 1500 this year, naming the 2019 Ram to their 10 Best Interiors of 2018 list back in April, and their 10 Best User Experiences of 2018 list in September. Now they've announced that the 2019 Ram 1500's 3.6-liter V6 with the eTorque mild hybrid system has been included on their 10 Best Engines of 2019 list! It's a rare triple-crown honor WardsAuto for the 2019 Ram 1500, which has been steadily racking up awards since the model went on sale earlier this year.

Founded over 100 years ago, Wards is one of the world's most trusted sources when it comes to reviews of new vehicles. Since its debut, Wards has reviewed and rated over 2,000 new vehicles, with their editors completing 150 comprehensive auto evaluations every year, judging each vehicle on factors including comfort, styling, engineering, fuel economy, horsepower and torque and more, as well as judging them against other vehicles in their class. Only the best of the best wind up on Ward's annual 10 Best Lists, which makes the clean sweep by the 2019 Ram for its interior, engine and overall build quality, a rare honor.  

The 2019 Ram 1500's revolutionary eTorque system — available on both the 3.6-liter V6 honored by Wards, and the legendary 5.7-liter Hemi — works by replacing the standard alternator with a small, water cooled generator that sits atop the motor. In addition to charging the truck's standard 12-volt battery, the generator also sends excess energy captures while coasting or braking to a suitcase-sized, 48-volt battery pack in the rear wall of the cab.

When the eTorque system senses a need for low end grunt when towing or taking off from a standing start, the generator instantly switches to become a powerful electric motor, delivering torque directly to the crankshaft via the same eight-rib, high-strength belt that turns the generator during normal operation. In the 3.6-liter V6, eTorque instantly adds up to 90 lb.-ft of torque on demand, with no input required from the driver. With the 5.7-liter V8, the system is good for up to 120 lb.-ft. of torque. The 3.6-liter Pentastar V6 with eTorque is rated at a robust 305 horsepower and 269 lb.-ft. of torque, with two wheel drive Rams delivering EPA-estimated fuel economy of 25 miles per gallon on the highway.
"The Pentastar V-6 engine with eTorque shows how electrifying components of conventional engines can create magic under the hood," said Drew Winter, senior content director at WardsAuto. "The all-new 48-volt mild-hybrid eTorque system provides a dollop of electrical propulsion during launch and while shifting gears, creating seamless, buttery smooth power to the wheels and improved fuel economy."

Winter said that judges evaluated a four-wheel-drive 2019 Ram 1500 with the eTorque V6, and noted fuel economy of between 21 and 22 mpg in over 800 miles of testing, which Winter called "outstanding," adding that the system works imperceptibly to up torque and fuel economy.
"The versatility of our workhorse Pentastar V-6 engine family is unquestioned, with more than 9 million produced," said Ram's head of powertrain development Bob Lee. "This latest Wards milestone represents the sixth time the 3.6-liter engine has been recognized with three different iterations. Receiving the Wards 10 Best recognition validates our mission to provide customers optimal ownership value without sacrificing performance." It's the ninth time engines produced for Chrysler, Dodge, Jeep, Ram and Fiat vehicles have been named to Wards 10 Best Engines list.

Ready to see what all the critical and award-winning fuss is about? Are you ready to buy a 2019 Ram 1500 in Springdale? If so, stop in soon at McLarty Daniel CDJRF of Springdale, where our great selection, honest deals and impeccable service after the sale will make you a customer for life! Come see us today, or check out our selection of 2019 Ram 1500 vehicles online!