2019 Jeep Wrangler Rubicon for sale in Springdale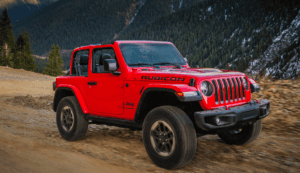 When you're tired of messing around with lesser off-roaders there's really only one solution: the all-new 2019 Jeep Wrangler Rubicon. An icon of style, rugged engineering, and unstoppable off-road performance, the 2019 Jeep Rubicon is the rig you need to get you there when the going gets tough. Want to buy a 2019 Jeep Wrangler Rubicon in Fayetteville, Huntsville, Siloam Springs or Rogers? Then you need to stop in today for a test drive at McLarty Daniel Chrysler Dodge Jeep Ram Fiat of Springdale, or check out our big selection online right now!
Click here to shop our selection of 2019 Jeep Wrangler models
ICONIC STYLE: Though it may seem to the untrained eye like Jeep styling hasn't changed all that much since the first plucky Jeeps rolled into combat during World War II, looks can be deceiving. Though the Jeep Wrangler has always featured the rugged, purpose-first styling, the 2019 Jeep Wrangler Rubicon is an all-new design, tweaked all over to make it better, tougher and more stylish. Up front, the iconic seven-slot grille features wider, taller slots for increased cooling. Burlier and brawnier than most Wranglers, the 2019 Jeep Rubicon sits on tall, 31-inch all-terrain tires, with wider, higher set fender flares for increased clearance and suspension travel. Meanwhile, bold Rubicon badging along the hood sides never lets anybody forget who is king of the mountain.

DESTRUCTION-PROOF RUNNING GEAR: Since its introduction, the Jeep Wrangler Rubicon has been the flagship model of the Wrangler, packing running gear that represents the pinnacle of robust, reliable components that can survive terrain that would put other 4x4s at the end of a tow strap. In the 2019 Jeep Wrangler Rubicon, that reliability is thanks in large measure to the legendary, unstoppable Rock-Trac 4×4 system, which is standard on the Rubicon. Featuring rugged Dana 44 wide-track axles with Tru-Lok electronic locking front and rear differentials, the Rock-Trac system routes power through the clawhammer-tough NV241 transfer case with 4:1 low gear ratio, with extensive steel skid plates to up-armor vital components like the steering gear and transfer case.

UNSTOPPABLE CAPABILITY: When you're out on the trail facing an obstacle, you don't want to worry whether your rig has the stuff it takes to power through. With the 2019 Jeep Wrangler Rubicon, you can feel free to go further and harder, thanks to unstoppable capability, traction, handling and maneuverability across the board. Getting more suspension travel to keep the tires planted is easy as flicking a switch with the electronic front and rear swaybar disconnect system, standard on Rubicon. River or stream in your way? Confidently ford water almost three feet deep thanks to the Rubicon's unique, high-set air-intake, sealed electrical connections and advanced door sealing. Fallen trees, rocks or boulders in your way? The 2019 Jeep Rubicon says bring it on, with body-protecting rock rails and one of the highest factory ground clearances of any production vehicle.

Heard enough to know you're ready to buy a 2019 Jeep Wrangler Rubicon in Tontitown, Lowell, or Rogers? Then you're ready to stop in at McLarty Daniel CDJRF of Springdale. Take a test drive today, or check out our big selection of 2019 Jeep Wrangler models online, including the incredible 2019 Jeep Rubicon.