Chrysler Pacifica and Ram 1500 named 2019 Consumer Guide Best Buys! | McLarty Daniel CDJRF of Springdale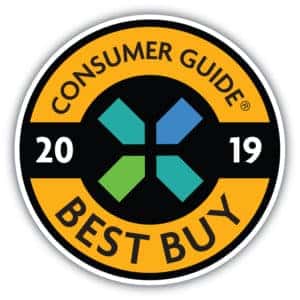 Here at McLarty Daniel Chrysler Dodge Jeep Ram Fiat of Springdale, we love telling customers about all the features, great styling, cutting-edge safety and surprising performance of the 2019 Chrysler Pacifica and 2019 Ram 1500. Though one is a family friendly people mover and the other a clawhammer-tough pickup, the 2019 Ram and 2019 Pacifica share more than just a common parent company. They share a brand-wide commitment to making better cars, trucks, vans and SUVs than anybody else — vehicles that can stand the test of time and make drivers' lives easier, not harder.

We're not the only ones who love the 2019 Ram 1500 and the 2019 Chrysler Pacifica! The influential product rating magazine Consumer Guide finds a lot to love in them too. They've showed it again this year, with the 2019 Chrysler Pacifica picking up its third-straight win for Consumer Guide's Best Buy Awards in both the "Minivan" and "Family Vehicle" categories. The all-new 2019 Ram 1500, meanwhile, muscled its way to an incredible 11th straight win in Consumer Guide's Large Pickup Truck Best Buy Award!

"As the winner of the Best Buy crown for the third year in a row, the Pacifica offers class-leading horsepower and fuel economy, excellent road manners and ride quality, and an unmatched array of family-friendly features … all wrapped up in a stylish package," said Tom Appel, publisher of Consumer Guide Automotive. "With an excellent redesign for 2019, the Ram 1500 builds on the previous model's considerable strength and offers an unbeatable ride and handling combination along with a high level of refinement, classy interiors and unique features."
Founded in 1967 and based in Morton Grove, Illinois, Consumer Guide publishes objective reviews of new cars and trucks, publishing over 1,500 honest evaluations of vehicles since the publication started, with the goal of making vehicle shopping easier for customers seeking a more confident car-buying experience. Consumer Guide is based in Morton Grove, Illinois. It is published by Publications International, Ltd. According to Consumer Guide Automotive, a vehicle is judged to be a Best Buy based not only on styling, engineering, interior comfort and other factors, but also by being a good value when compared to other vehicles in the class. For more information on the Consumer Guide Automotive 2019 Best Buys, visit consumerguide.com.
It's easy to see why Consumer Guide found the 2019 Chrysler Pacifica to be a winner in their Best Buy Awards three years running. The most beautiful and feature-packed minivan on the market, the 2019 Chrysler Pacifica blows away boring and boxy small van styling with a shape that's sleek and modern, delivering class-leading gasoline and hybrid power, plus over 100 available security and safety features. The 2019 Chrysler Pacifica Hybrid is the first gas/electric hybrid in the minivan segment, with fuel economy of over 80 miles per gallon the a range of 30 miles when operating on electric power alone.
The same goes for the 2019 Ram 1500, which debuted with a top-to-bottom redesign for the 2019 model year, with significant improvements in styling, engineering, power and comfort, plus an incredible 12,750 pounds of maximum towing when properly equipped, and a similarly impressive 2,300 pounds of towing capacity. Inside, the all-new Uconnect 4C touchscreen in the center dash is the largest productivity screen in a full-size truck, featuring tablet-like features, apps, navigation, cell-phone integration and more. 
Consumer Guide loves the 2019 Ram 1500 and the 2019 Chrysler Pacifica. Are you ready to fall in love with one of these incredible vehicles, too? Are you ready to buy a 2019 Ram 1500 in Springdale, Arkansas, or the beautiful 2019 Chrysler Pacifica? Then stop in today at McLarty Daniel CDJRF in Springdale, where our friendly hometown deals and impeccable service after the sale will make you a customer for life! Come see us soon!